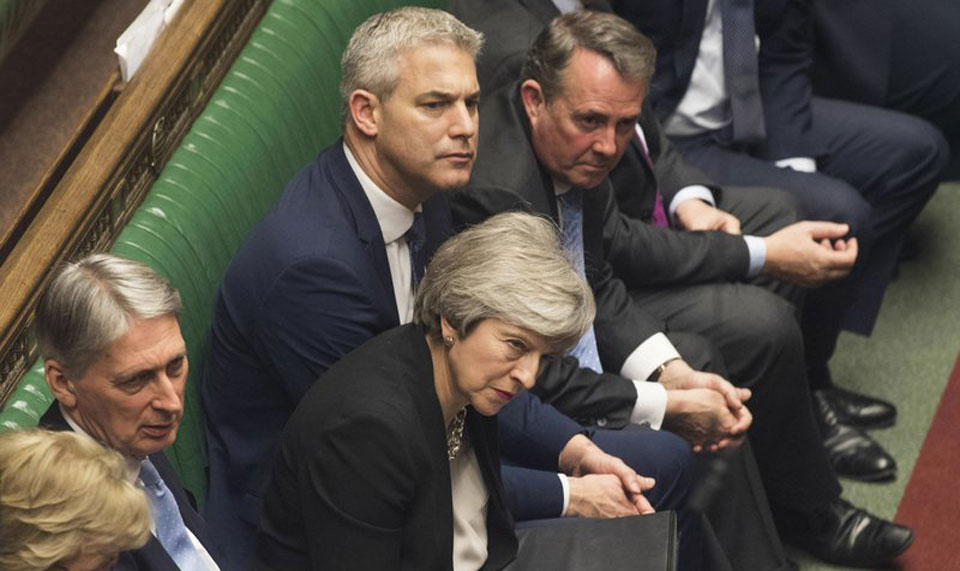 "This government's shambolic handling of Brexit is fast becoming a crisis. It's worrying to businesses, it's worrying to people in work about their own futures, and everyone who's worried is worried because they have no leadership in the process from their government."
Those harsh, yet truthful words, delivered by opposition Labour Party leader Jeremy Corbyn, hours before Members of Parliament (MPs) voted on amendments to the EU withdrawal agreement, highlights the Brexit bitterness and division found within the House of Commons.
Labour, along with several cross-party members, made it clear leaving the EU without a deal was unacceptable and would not be adopted.
In a series of votes yesterday evening, MPs approved an amendment, 317 votes to 301, to accept a Brexit deal if British Prime Minister Theresa May can negotiate changes to the Irish backstop (the Brady amendment). The backstop is a measure that would keep the UK's Northern Ireland in a customs union with the EU in the event of a "no-deal" Brexit, maintaining its open border with the Republic of Ireland.
MPs also adopted a backbench amendment, 318 votes to 310, to reject such a no-deal Brexit in principle.
Labour's official opposition Brexit amendment, seeking to give Parliament more time to consider and vote on options to prevent a no-deal UK exit, was voted down 327 to 296.
It was voted down along with other amendments calling for an extension of the Article 50 withdrawal timeline, a second referendum, or a citizen's assembly.
May, playing a skillful toreador, avoided the enraged charging bull—Brexit, and will return to Brussels to renegotiate the deal's most challenging provision
And while these votes could be viewed as realistic guidelines for May's next steps, the PM's position remains defiant. Despite the House of Commons vote signaling members' refusal to accept a no-deal Brexit, May said it did not kill the prospect of the UK crashing out of the EU.
"Last night, the house did vote to reject no deal. But that cannot be the end of the story. You can't just vote to reject no deal. You have to vote for a deal. Otherwise, you leave with no deal," she said.
Cutting through the political, though, the truth is simple: This is another toothless victory for May.
She will face hard opposition to reopen and renegotiate the Irish backstop and is thinking the same way as smokers do when trying to kick the habit: "Ahhh, just one more won't hurt."
Moments after voting ended, EU officials repeated their position: There will be no renegotiation of the Irish backstop.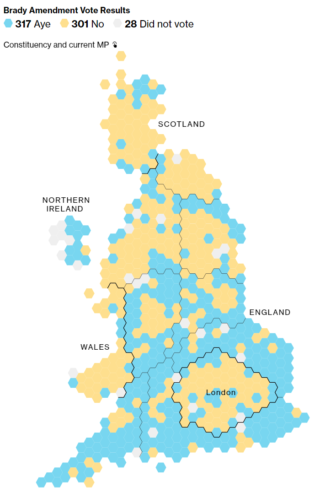 "The Withdrawal Agreement is and remains the best and only way to ensure an orderly withdrawal of the United Kingdom from the European Union," said a spokesperson for EU President Donald Tusk. "The backstop is part of the Withdrawal Agreement, and the Withdrawal Agreement is not open for re-negotiation.
"We will continue our preparations for all outcomes, including a no-deal scenario. We will also continue the EU's process of ratification of the agreement reached with the UK Government," the spokesperson continued. EU officials mentioned they would be open to considering an extension to the exit date, but for now, that option remains off the negotiation table.
For Britain's Communists, there is only one option left: A people's Brexit.
"Britain's political crisis is deepening by the day and it reflects a more profound crisis for the ruling class and state-monopoly capitalism," said Communist Party of Britain (CPB) general secretary Robert Griffiths.
At the CPB's first meeting of its new executive committee, it was said: "the 'pro-EU Tory minority regime' and the EU Commission could not be trusted to reach any withdrawal agreement that did not serve the interests of big business and the capitalist class."
The CPB's political report ended with an urgent call for a general election, "a left-led government and an independent foreign and defense policy for Britain, based on solidarity with the oppressed and exploited."
May now has two-weeks—until Feb. 13—to return to Parliament with a new deal. How quickly the harsh reality of a no-win negotiation sinks in is hard to tell—but it will happen none the less.