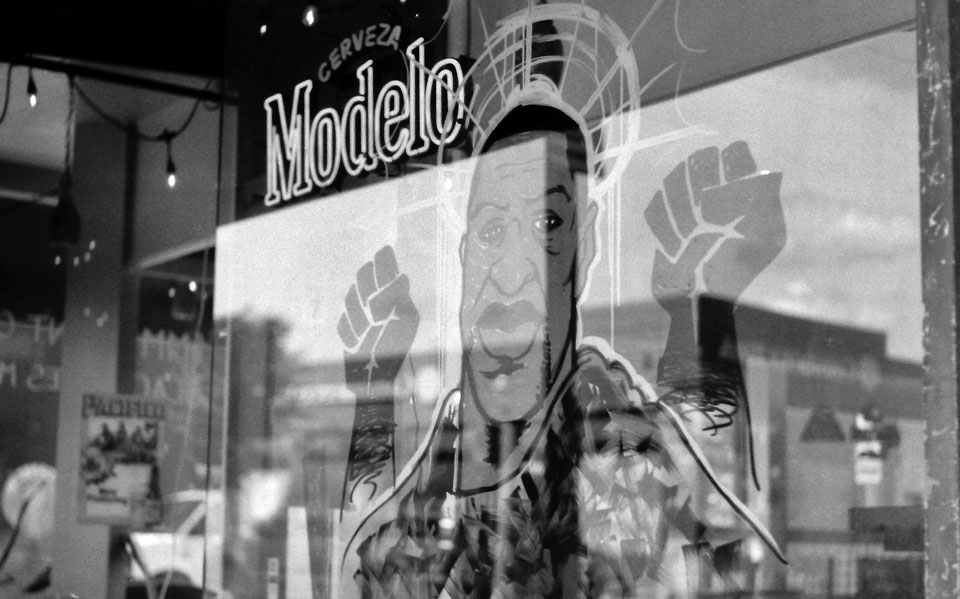 Michael Brown's lifeless body lay uncovered on hot asphalt, his blood pooling beneath him for hours on that fateful summer day in 2014. Brown died at the hands of a white Ferguson, Mo. police officer following a questionable altercation. The officer was not wearing a body camera, and no one captured cell phone video of the moments leading up to the end of his short life on such a long day.
He had graduated high school eight days before. Yet, instead of looking towards the future, he faced down a loaded gun and took six bullets in the back.
Outrage spilled into the streets. And a chorus of voices rang out: "Hand's Up, Don't Shoot."
For months—summer, to autumn, and then winter—demonstrations took place across Missouri. The outrage spread nationally and internationally as minute-by-minute people realized how unjust the American justice system was and still is. All eyes watched as news cameras recorded the scenes and sounds of righteous fury and as activists from all walks of life came together, calling on transformative change.
But change is never simple or easy.
If this were a Hollywood film, the scene would cut from Ferguson activists meeting with then-President Barrack Obama to a grand jury indictment of the disgraced officer, followed by impassioned pleas in the halls of Congress leading to radical changes in law enforcement oversight and accountability.
But come November 2014, the hard truth was this: there would be no indictment, Darren Wilson would walk away with his life, unlike Michael Brown, now buried six feet underground.
Seven years have passed. The memorial candles are no longer lit, and the rose petals have dried and turned a pale shade of red, but the small shrine dedicated to Brown, next to a plaque right off the street where he died, still stands. A constant reminder of the work still needed to bring about justice in the United States.
Brown would have turned 25 on May 20, 2021. And just five days later, there would be another commemoration: the first anniversary of George Floyd's death at the hands of Minneapolis police. A moment captured and shared on social media, rousing the Black Lives Matter movement, sending wave after wave of protest nationwide.
In 2014, the death of Michael Brown was a moment many hoped we would never have to repeat. Sadly, the depravity and brutality of law enforcement are deeply ingrained in the fabric of our society.
"I really thought my brother's death would be the last police brutality case, but as we can all see, they are at it again and again and again," said Bridgett Floyd, George's sister, May 25.
Since 2015, when the Washington Post began collecting records of all fatal shootings in the United States, 136 unarmed Black men and women have been shot and killed by police. In 2020 alone, 243 Black Americans were shot and killed by police. In the same year, police shot and killed 1,021 people of different economic and ethnic backgrounds.
So, despite all that has happened, police shootings remain steady. Black American's are still being killed at a higher rate than white Americans, even if they only account for 13 percent of the U.S. population. In George's case, the white officer, Derek Chauvin, was found guilty in April of this year. His sentencing will soon follow.
Candles flicker with the wind, flowers, and cards dot the street next to a convenience store Floyd had entered, never knowing it would be the last place he saw.
In Washington D.C., Floyd's family, including his young daughter, met with President Joe Biden and Vice President Kamala Harris at the White House. Bridget Floyd, his sister, was absent, saying she would only set foot in D.C. when a police reform bill, bearing her brother's name, is signed into law.
"That's when I will make my way to D.C.," she said from Minnesota.
President Biden released a statement after meeting with Floyd's family saying: "We have to act. We face an inflection point. The battle for the soul of America has been a constant push and pull between the American ideal that we're all created equal and the harsh reality that racism has long torn us apart."
The George Floyd Justice in Policing Act of 2020 passed the House March 3, 220-212, and continues to face a steep climb towards implementation in the U.S. Senate, where Democrats have a razor-thin majority.
The bill aims to end now-standard police techniques, including chokeholds, carotid holds, two forms of force deemed deadly. It also seeks to improve police training and invest in community programs designed to improve policing and promote equitable policies.
There is nothing new, or nothing that we have not heard of before, in the bill.
It is a continuation of the work done by the Forward Through Ferguson commission and the report they released following Brown's 2014 death focusing on law enforcement's use of force and calling for improved training, civilian review, and oversight, etc.
And one would think with such a consistent narrative around police reform—seven years—elected officials at the nation's capital would, just maybe, take that into account and do their job but, that's only common sense.
The current deadlock underlines the deeper political complexities of an issue concerning voters of both parties—progressives and voters of color to the left; law-and-order voters to the right. It should not be this way, though.
The question (along with the answer) is simple: Should Black Americans be fearful of law enforcement? Should they fear for their lives during a traffic stop?
If you answered no, then the solution becomes clear, dismantle the broken justice system, and replace it with something that would allay such fears.
It is not rocket science.