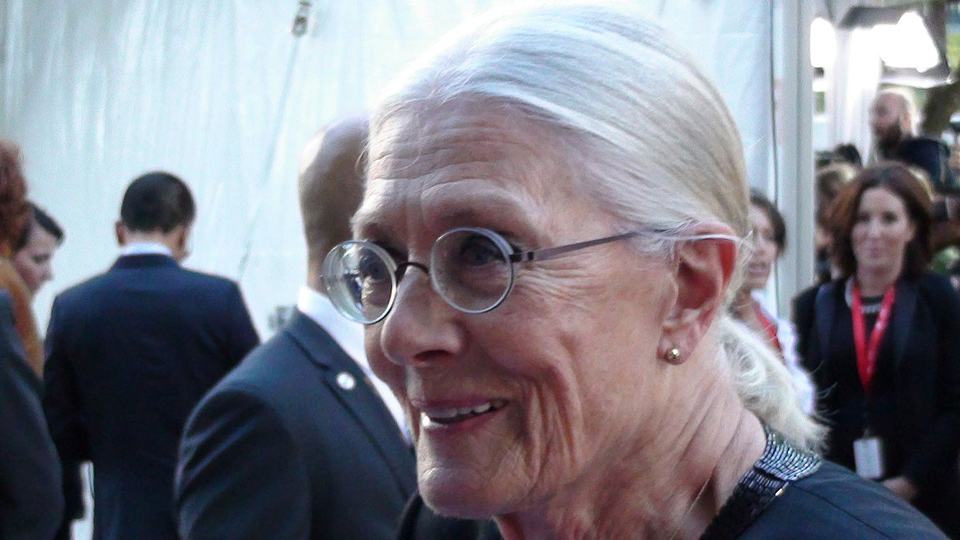 Vanessa Redgrave, CBE, one of world's most famous actresses of stage, screen and television, is also well known as a vocal political activist.
She was born 80 years ago on January 30, 1937, in London, the daughter of actors Sir Michael Redgrave and Rachel Kempson. Laurence Olivier announced her birth to the audience at a performance of Hamlet at the Old Vic, when he said that Laertes (played by Sir Michael) had a daughter. Her siblings Lynn Redgrave and Corin Redgrave were also renowned actors. She is the mother of actresses Joely Richardson and Natasha Richardson, aunt of actress Jemma Redgrave, and mother-in-law of actor Liam Neeson.
Redgrave won the Academy Award for Best Supporting Actress for the title role in the film Julia (1977), based on a story by Lillian Hellman. She has also won the Emmy, Tony, BAFTA, Olivier, Cannes, Golden Globe, and the Screen Actors Guild awards.
She was made a Commander (CBE) of the Order of the British Empire in 1967.
As an activist of pronounced social conscience, in 1961 she joined the Committee of 100 anti-war working group. She and her brother Corin joined the Workers Revolutionary Party, a Trotskyist formation, in the 1970s, and were both expelled in the 1980s. She ran for Parliament several times as a party member, never receiving more than a few hundred votes.
Redgrave funded and narrated a documentary film, The Palestinian (1977), about the Palestinian people and the activities of the Palestinian Liberation Organization (PLO). In Julia that same year, she starred as a woman murdered by the Nazi regime for her anti-fascist activism. When she was nominated for an Oscar in 1978 for that role, members of the right-wing Jewish Defense League, led by Rabbi Meir Kahane, burned effigies of Redgrave and picketed the Academy Awards ceremony to protest her Palestinian film.
Accepting the award, Redgrave thanked Hollywood for having "refused to be intimidated by the threats of a small bunch of Zionist hoodlums – whose behavior is an insult to the stature of Jews all over the world and to their great and heroic record of struggle against fascism and oppression."
In 1980, Redgrave made her American TV debut as concentration camp survivor in the Arthur Miller-scripted TV movie Playing for Time, for which she won an Emmy. This casting, controversial in light of Redgrave's support for the PLO, prompted Redgrave to state in her 1991 autobiography her long-held belief that "the struggle against antisemitism and for the self-determination of the Palestinians form a single whole."
In 1984, Redgrave sued the Boston Symphony Orchestra, claiming that the orchestra had fired her from a performance because of her support of the PLO. She won on a count of breach of contract, though not on the claim that the orchestra had violated her civil rights by firing her.
In 1995, Redgrave was elected to serve as a UNICEF Goodwill Ambassador.
Her performance as a lesbian mourning the loss of her longtime partner in the HBO series If These Walls Could Talk 2 earned her a Golden Globe and an Emmy Award in 2000, and led to an Excellence in Media Award from the Gay & Lesbian Alliance Against Defamation (GLAAD).
In 2002, Redgrave paid £50,000 bail for a Chechen separatist special envoy Akhmed Zakayev, who had sought asylum in the UK and was accused by the Russian government of aiding and abetting hostage-takings. She said she feared for Zakayev's life if he were sent back to Russia on terrorism charges, and the court rejected Russia's extradition request.
In 2004, she and her brother Corin launched the Peace and Progress Party, which campaigned against the Iraq War and for human rights, but she left it the following year. During a 2005 interview on Larry King Live, she defended her criticism of the "war on terrorism." Can there be true democracy, she asked, if the political leadership of the U.S. and UK fail to uphold such norms as "no torture, no camps, no detention forever or without trial…. [Such] techniques are not just alleged…, they have actually been written about by the FBI. I don't think it's being 'far left'…to uphold the rule of law."
In March 2006, Redgrave remarked in an interview with broadcast journalist Amy Goodman, "I don't know of a single government that actually abides by international human rights law, not one, including my own. In fact, [they] violate these laws in the most despicable and obscene way, I would say." In that interview Redgrave also commented on the cancellation by the New York Theatre Workshop of the Alan Rickman production of a pro-Palestinian play, My Name is Rachel Corrie — an "act of catastrophic cowardice" in Redgrave's view.
A few months later, Redgrave was awarded a lifetime achievement award from the Transilvania International Film Festival, sponsored in part by a mining company, Gabriel Resources. She dedicated the award to a community organization in a Romanian village which was campaigning against a gold mine that Gabriel Resources was seeking to build nearby.
In December 2007, Redgrave was named a possible guarantor paying the £50,000 bail for Jamil al-Banna, one of three British residents arrested after landing back in the UK following four years' captivity in the U.S. prison at Guantánamo. Redgrave said she was "very happy" to be of "some small assistance for Jamil and his wife," adding, "It is a profound honor and I am glad to be alive to be able to do this. Guantánamo Bay (Gitmo) is a concentration camp."
In 2009, Redgrave revived her one-woman portrayal of Joan Didion in a stage adaptation of Didion's 2005 book The Year of Magical Thinking for a special benefit at New York's Cathedral of Saint John the Divine. The proceeds were donated to the United Nations Children's Fund (UNICEF) and the United Nations Relief and Works Agency (UNRWA) to provide help for the children of Gaza.
To this prominent citizen of the world we wish a very happy and healthy 80th birthday!
Source: Adapted from Wikipedia.