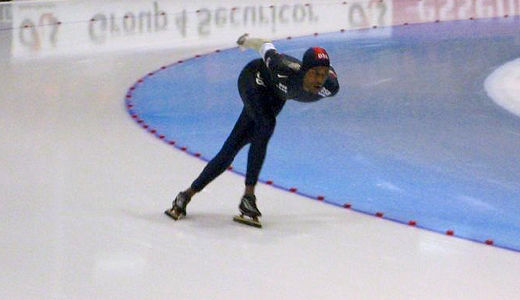 Ten years ago this week, on February 18, 2006, at the 2006 Winter Olympics in Turin, Italy, African-American speed skater Shani Davis became the first black athlete to win a gold medal in an individual sport at the Olympic Winter Games, winning the speedskating 1000 meter event. Two days later he also won a silver medal in the 1500 meter event. He was 23 years old.
At the 2010 Winter Olympics in Vancouver, Canada, he duplicated the feat, becoming the first man to successfully defend the 1000 meter gold medal, and repeating as 1500 meter silver medalist.
Davis was born on August 13, 1982, in Chicago. He started skating at the age of two, and credits his early success to the complete support of his mother. At 6'2″, he is known for his consistency and technical proficiency. He attended Marquette Senior High School and Northern Michigan University.
Davis won the World Allround Championships in both 2005 and 2006, after winning the silver medal in 2004. In 2009 he won the World Sprint Championships in Moscow, the site of his first World Allround Championship victory. By winning he became the second male skater, after Eric Heiden, to have won both the Sprint and Allround. He has won six World Single Distance Championships titles, three at 1500 meters and three at 1000 meters, and he led the United States to its first and only World Championship gold medal in the Team Pursuit event in 2011.
He has won ten career Overall World Cup titles, six at 1000 meters and four at 1500 meters. Davis also earned the title of Grand World Cup Champion for the 2013-2014 season, earning the most points across all distances. His 58 career individual victories on the ISU Speed Skating World Cup circuit (through March 2014) place him second all-time among men.
Davis has set a total of eight world records, several of them still current. He also sits atop the world Adelskalender list after taking the lead from Sven Kramer in March 2009. The Adelskalender ranks the all-time fastest long track speed skaters by personal best times in the four World Allround Championship distances.
The champion skater continues to compete internationally, and trains at two U.S. Olympic training facilities, the Pettit National Ice Center in West Allis, Wis., and the Utah Olympic Oval in Salt Lake City.
"If I still have the motivation and energy to pursue being in an Olympics, I will," he told the Salt Lake Tribune, with a glance forward to the 2018 Winter Olympics in PyeongChang, South Korea, when he will be 36. "If not, it's been a great career."
Adapted from Wikipedia and the Shani Davis website.
Photo: Davis during the World Cup in Heerenveen in 2007. By Mingo Hagen – originally posted to Flickr as Shani Davis, CC BY-SA 2.0.