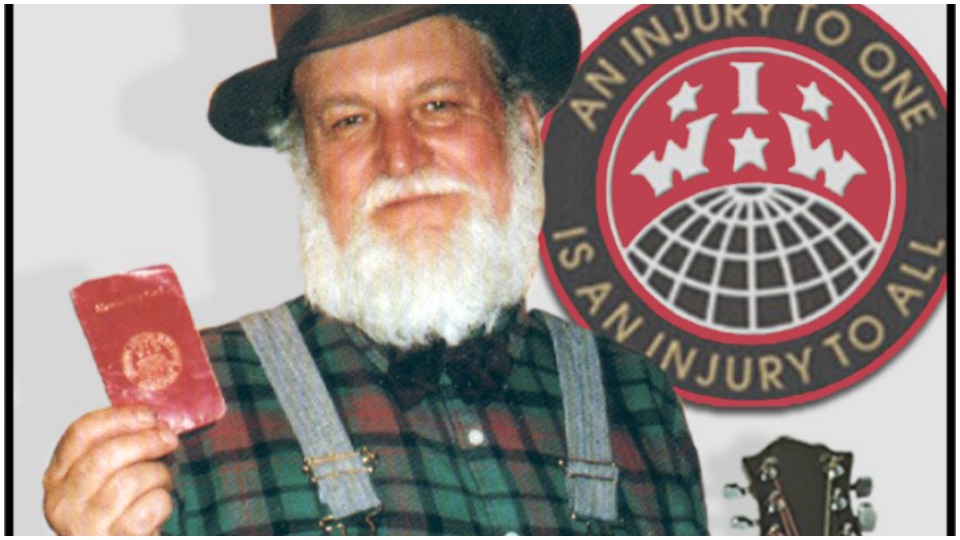 This week marks ten years since the passing of renowned and beloved folk singer, storyteller, poet and recording artist known as "Golden Voice of the Great Southwest." He died at the age of 73 on May 23, 2008.
Bruce Duncan "Utah" Phillips was an American labor organizer who embraced the struggles of labor unions and believed in the power of direct action, self-identifying as an anarchist. He often promoted the Industrial Workers of the World (IWW) in his music and activism.
Phillips was born in Cleveland, Ohio, to a labor family. After a divorce and his mother's remarriage, Phillips was adopted by his stepfather, Syd Cohen, at the age of five. Cohen managed the Hippodrome Theater in Cleveland, one of the last vaudeville houses there. Cohen moved the family to Salt Lake City, Utah, where he managed the Lyric Theater, another vaudeville house. Early exposure to vaudeville was a significant influence on Phillips's later career.
At East High School in Salt Lake City, Phillips was involved in the arts and plays. He served in the U.S. Army for three years in the 1950s. Witnessing the devastation from the Korean War greatly affected his social and political thinking. After discharge from the army, he rode the rails, writing songs.
Back in Salt Lake, Phillips met Ammon Hennacy from the Catholic Worker Movement, to whom he gave credit for transforming his life of drifting to one of engagement and public service. He adopted the name U. Utah Phillips in keeping with the hobo tradition of adopting a moniker that included an initial and the state of origin. Phillips helped to establish a Catholic Worker mission house of hospitality named after Joe Hill, and worked there for eight years. In 1968 he ran for the U.S. Senate as a candidate of Utah's Peace and Freedom Party, and for president of the United States in 1976 for the Do-Nothing Party.
As a Christian anarchist and pacifist, he found the modern-day Wobblies to be the perfect fit for him. In recent years, probably no single person did more to spread the Wobbly gospel than Phillips, whose countless appearances were, in effect, organizing meetings. He was a memorable interpreter of classic Wobbly tunes by Joe Hill and others. He spoke at Forest Home Cemetery, in Forest Park (just west of Chicago), on May Day 1986 during ceremonies commemorating the 100th anniversary of the Haymarket affair.
Phillips recorded numerous solo albums over the course of his more than four-decade-long career, as well as collaborative recordings with such artists as Rosalie Sorrels and Ani DiFranco. His songs were picked up by Emmylou Harris, Ian Tyson, Tom Waits, Joan Baez and others.
As he aged and it became more difficult to play guitar, Phillips increasingly based his concerts on storytelling instead of just songs. He attributed much of his success to his personality. "It is better to be likable than talented," he would say self-deprecatingly.
Phillips died May 23, 2008 in his home town Nevada City, Calif., from complications of heart disease, and is buried in Forest View Cemetery there. His extensive archival papers are open for research at the Walter P. Reuther Library in Detroit, Mich.
A few choice quotes from Utah Phillips:
"The state can't give you free speech, and the state can't take it away. You're born with it, like your eyes, like your ears. Freedom is something you assume, then you wait for someone to try to take it away. The degree to which you resist is the degree to which you are free…"
"The Earth is not dying, it is being killed, and those who are killing it have names and addresses."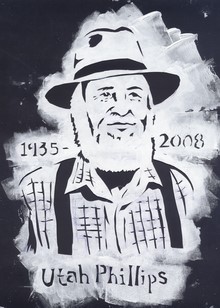 "The big system can be pretty overwhelming. We know that we can't beat them by competing with them. What we can do is build small systems where we live and work that serve our needs as we define us and not as they're defined for us. The big boys in their shining armor are up there on castle walls hurling their thunderbolts. We're the ants patiently carrying sand a grain at a time from under the castle wall. We work from the bottom up. The knights up there don't see the ants and don't know what we're doing. They'll figure it out only when the wall begins to fall. It takes time and quiet persistence. Always remember this: They fight with money, and we resist with time, and they're going to run out of money before we run out of time."
"Q: What can people do to defend their civil liberties? Phillips: I'm a pacifist, but the most American thing you can do is to dissent, and the most un-American thing you can do is to stifle dissent. When you feel threatened by the suppression of your liberties, you exercise them to the nth degree, you scream your head off every chance you get. You talk to people you don't agree with. Really good advice: Every day, talk to at least two people who don't agree with you. It's the only way it is going to get done."
"I didn't know what exhausted me emotionally until that moment, and I realized that the experience of being a soldier, with unlimited license for excess, excessive violence, excessive sex, was a blueprint for self-destruction. Because then I began to wake up to the idea that manhood, as passed onto me by my father, my scoutmaster, my gym instructor, my army sergeant, that vision of manhood was a blueprint for self-destruction and a lie, and that was a burden that I was no longer able to carry. It was too difficult for me to be that hard. I said, 'OK, Ammon, I will try that.' He said, 'You came into the world armed to the teeth. With an arsenal of weapons, weapons of privilege, economic privilege, sexual privilege, racial privilege. You want to be a pacifist, you're not just going to have to give up guns, knives, clubs, hard, angry words, you are going to have lay down the weapons of privilege and go into the world completely disarmed.'"
"Every good educator knows that true teaching is to teach kids how to ask the right questions."
"Yes, the long memory is the most radical idea in this country. It is the loss of that long memory which deprives our people of that connective flow of thoughts and events that clarifies our vision, not of where we're going, but where we want to go."
A ten-minute video obituary with clips of Utah Phillips can be viewed at Amy Goodman. A YouTube search will also turn up numerous clips of Utah Phillips in concert.
Sources include Wikipedia.