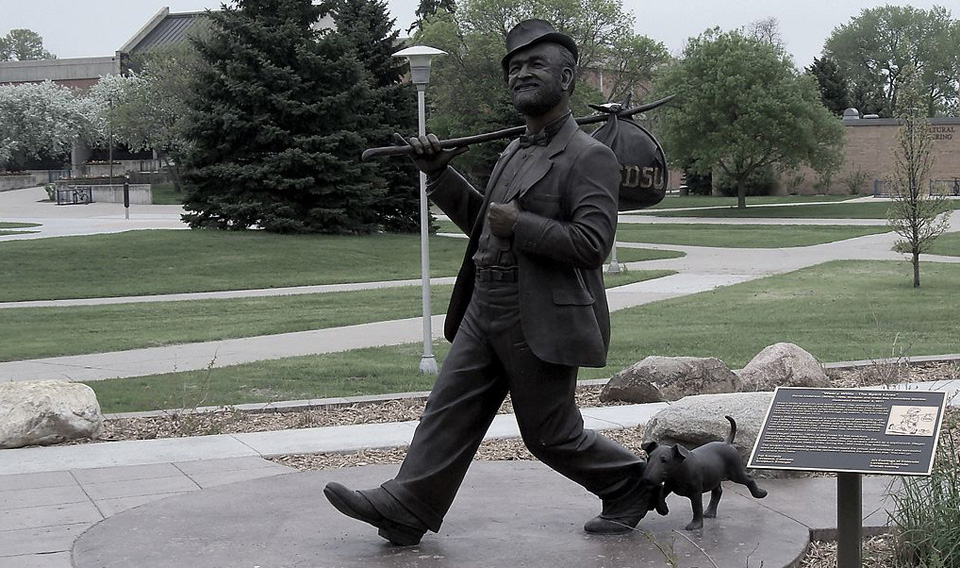 The National Hobo Convention is held on the second weekend of every August since the year 1900 in the town of Britt, Iowa, organized by the local Chamber of Commerce. This year the convention takes place Aug. 9-13. It is the largest gathering of hobos, rail-riders, and tramps, who gather to celebrate the American traveling worker.
Britt is a town in north central Iowa with a population of just over 2000. A train depot was built there in 1870 before the town was built up. It is believed to be named for a railroad engineer or brakeman.
The festival includes a parade, entertainment, arts and crafts, food, dancing, an encampment and other fun. The highlight of the weekend is the election of the King and Queen of the Hobos. The hobos come to town and set up a hobo jungle, sell their crafts and provide free entertainment to visitors.
Every lover of American folk music knows the song "Hallelujah! I'm a Bum," which celebrates the freewheeling life of workers on the rails between jobs. Many of its verses show a sharp social and class consciousness:
Oh, why don't I work like other men do?
How the hell can I work when the skies are so blue?
Chorus: Hallelujah! I'm a bum, Hallelujah bum again,
Hallelujah! give us a handout and revive us again.
Oh, I love my boss and my boss loves me,
And that is the reason I'm so hungry.
Oh why don't you save all the money you earn?
Well if I didn't eat, I'd have money to burn.
Oh, I like my boss, he's a good friend of mine,
And that's why I'm standing out in the breadline.
Theories accounting for the rise of hobo culture contain a special poignancy. A truly national coast-to-coast railway system only emerged after the Civil War, which was a time of great industrial expansion, especially with the millions of new immigrants streaming to America. There is some evidence to suggest that hobos may have been (mostly) men pushed off their farms as the country increased its manufacturing base, or men constitutionally unable to hold down regular factory jobs because of their unrecognized PTSD from the war. After the "shellshocked" troops returned from Europe after World War I, a new generation of hobos joined the flow of itinerant workers looking for jobs where they could find them. Their numbers only increased during the Great Depression.
Hobos were "homeless" by choice, although, like our urban homeless population, the choice was often imposed upon them. They worked to travel and traveled to work. Their chief mode of transportation has always been freight trains. For some, undoubtedly, there must have been an element of escape from traditional social expectations such as marriage and family.
The parade starts at 10 am on Saturday. Everyone can let their hobo spirit soar as they participate, "some in rags, some in tags, some in velvet gowns." According to the Chamber of Commerce, "Marching bands, queens, business floats, children, adults, and hobos all come down the streets in one long line and share the fun that only a Hobo Convention can provide."
Britt's "Hobo Days" celebration usually draws about 20,000 tourists over several days, and about 75 or 80 genuine or one-time tramps. Most of the rides are more suitable for smaller children. There are various food service trucks selling barbecue, pork-chop-on-a-stick, cotton candy and so on. People sell from flea market and farmer's market tables with local produce. The Hobo Museum is open, and Ms. Castillo's portraits of the Hobo Kings and Queens are on display. The parade is unique, with resonances of a small-town Fourth of July celebration or a mini-Mardi Gras: Hobos who participate in the parade bring a supply of individually wrapped hard candy to throw to the children along the parade route.
The town serves up several thousand gallons of mulligan stew, a concoction of meat, potatoes, vegetables, and whatever else can be begged, scavenged, found or stolen. Historically and regionally, the meat could be locally acquired squirrel or opossum. Only a pot and a fire are required. The hobo who put it together was known as the "mulligan mixer."
Visitors are welcome to check out or camp in the "National Hobo Jungle" next to the railroad tracks. The actual convention comprises members of Tourist Union #63, founded in 1899 and still existing today. Much of the convention's activity take place in the jungle, or in the National Hobo Cemetery, located in a corner of Britt's Evergreen Cemetery where many steam-era hobos have been laid to rest. There is a day dedicated to cleaning, repainting and mowing the hobo graves, and a memorial service the following day. Generally, after the memorial, a Hobo Council is convened, which is limited to actual hobos and members of TU63. You can identify many members of TU63 by a small patch sewn to a cap or jacket that is a black-bordered white circle with the black numerals "63" inside.
The jungle operates more or less on the honor system. People with the means to do so are asked to contribute an amount similar to what they would pay for a restaurant meal into the "Frisco Circle" kitty. Those with more limited funds are welcome to eat for free, but encouraged to help with the kitchen chores. Camping in the jungle is free.
The national hobo gathering may be the chief claim to fame for Britt, Iowa, but it is a gentle reminder of the role migrant and displaced workers has always played in our economy. If current trends continue toward gentrification in the cities, increasing poverty in the suburbs, and more precarious labor with no benefits, we may be seeing more modern-day "hobos" on the rails and roads again.
A schedule of events can be found here. Watch a charming video here.
Sources: Britt Hobo Days, Chase's Calendar of Events, Wikipedia.