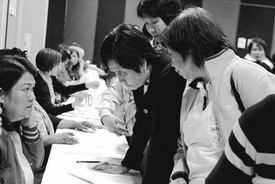 San Francisco, Chicago hotel workers vote to authorize strikes
Thousands of hotel workers in San Francisco and Chicago, members of Unite Here, have voted to authorize strikes if labor disputes are not settled soon with major hotel corporations.
In San Francisco Aug. 24, hotel workers at 13 Class A hotels voted 93 percent in favor of authorizing union leaders to call a strike in their long-simmering contract dispute.
Union contracts covering more than 9,000 San Francisco hotel workers, including over 4,000 workers at the Class A hotels, expired in 2004. Among the issues are health care, living wages, dangerous workloads and a pension that will support workers in their retirement.
In Chicago, Hyatt workers last week voted 97 percent to authorize a strike, and Hilton workers voted 93 percent to grant their negotiating committees the power to call a strike if needed.
The strike votes affect over 2,600 workers whose contracts expire Aug. 31.
Hotel workers in Monterey, Calif., and Hawaii also voted last week to authorize strikes.
Right to strike for Northwest workers?
The Bush administration joined U.S. airlines in trying to strip the right to strike from flight attendants at Northwest Airlines. In an Aug. 25 federal district court hearing, the government argued that a strike — which a federal bankruptcy judge had ruled could go ahead — would disrupt air service not only on that carrier but on others as well.
"The Railway Labor Act continues to control this matter, the parties are obligated to continue mediation under the RLA process," the Bush Justice Department said in its brief. Northwest sued in the higher court to halt the strike.
The Association of Flight Attendants-CWA argued the airline's unilateral July 31 imposition of its initial offer which cuts pay by up to 40 percent already broke the RLA and that should allow the flight attendants to strike. AFA-CWA now represents Northwest's 9,300 flight attendants.
Following a required 15-day notice, AFA-CWA had been prepared to start its "CHAOS" plan at Northwest on Aug. 25, with attendants striking selected flights at selected times without advance notice to the airline.
Dallas transit workers drive home their point
Dallas transportation workers are threatened with wage and benefit cuts, with the Dallas Area Rapid Transit (DART) using the excuse of rising fuel costs. But Amalgamated Transit Union Local 1338 members and their supporters say that does not justify cuts that hurt workers and the public.
They packed the meeting of the DART Board on the evening of Aug. 22, carrying signs that made their point clear.
ATU 1338 President Kenneth Day and a long list of other speakers said bus and train drivers already have long and frustrating days, dangers on the job, and little support from other public entities.
The union's members have no legal right to collective bargaining or to strike, but they confer with DART management over employee conditions and reach agreements. Union leaders believe that their members, many of whom are African American or Latino, will arouse solidarity throughout the city if DART persists in its plans for cuts.
Concrete solidarity wins in Seattle
From Mike Hall's blog at the AFL-CIO web site: The "solidarity strike" by nearly 90 Seattle-area concrete workers who hit the picket lines July 31 seeking the right to honor other unions' picket lines ended in victory Aug. 25. Workers ratified a three-year contract that includes the provision to honor picket lines.
Members of International Union of Operating Engineers Local 302 struck four concrete plants when management refused the workers' demand that their right to respect other unions' picket lines be restored. The contracts of other local unions included solidarity provisions, and such an agreement had been part of Local 302's previous contracts.
Allan Dar, business manager for Local 302, says the story here is that 88 workers stood for their principles. "They won the right to honor the picket lines of another trade. They stood for 25 days on that principle."
In bright red type on Local 302's web site, the union proclaims:
We did it for the principle.
We did it for future generations.
We did it because it's our right.
We did it because it is right.
The new contract also raises wages by $3.95 an hour over three years. The four companies supply concrete, sand and gravel for area construction projects.
This Week in Labor is compiled by Roberta Wood (rwood@pww.org). Marilyn Bechtel, Tim Wheeler, Jim Lane and Mark Gruenberg contributed.