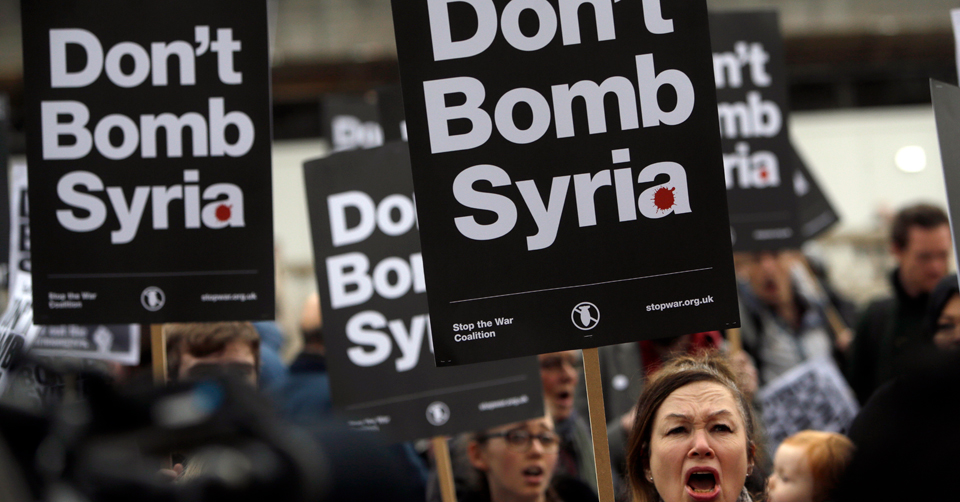 WASHINGTON—Chanting "Hands off Syria!" and carrying signs denouncing President Donald Trump's bombing there, hundreds of people massed in front of the White House on April 14 to oppose the Trump-ordered destruction of what he said—and they doubted—were Syrian chemical warfare facilities. Tens of thousands of people joined similar protests nationwide and in other cities around the world.
The D.C. demonstration was one of more than 40 organized by anti-war and anti-Trump groups in the U.S. Protests ranged from Chicago, Los Angeles, and Albuquerque—at Kirtland Air Force Base—on April 12; to D.C, Detroit, and New Haven on the 14th; and Seattle, Oakland, the Twin Cities, and New York on the 15th, among other cities.
The common theme was denunciation of the Trump-ordered bombing April 14 of what he called Syrian chemical warfare development sites. British and French bombers joined in too, producing protests in those nations. Trump, British Prime Minister Theresa May, and French President Emanuel Macron all claimed the bombing was one-time retaliation for Syrian President Bashar al-Assad's use of chemical weapons on civilians in that nation's long civil war.
"Mission accomplished!" Trump bragged in a tweet reminiscent of George W. Bush's bravado after the Iraq War invasion. A top Pentagon official promptly discounted the boast. He claimed Assad still has "residual" chemical weapons capability.
The demonstrators in D.C. and elsewhere not only said Trump didn't prove his case, but that he wouldn't even allow unbiased chemical weapons inspectors in beforehand to discover what killed Syrian civilians the week before. But their main theme was against a wider imperialist war.
"I'm against this bombing because it's just another aggressive act against another country," said Roger Scott, the only identified union member—he wore his green AFSCME T-shirt—at the D.C. protest.
"We've seen it"— the pattern of what actually happens—"again and again." Trump and his administration "follow the same progression. They believe Assad did this, and as more information comes out, we find out its bullshit," said Scott, of Local 2401.
People's World editorial: Syria war danger: The time to resist is now
That was also a key theme of many of the D.C, protest speakers, who sometimes mixed in opposition to U.S. aid to Israel with their vilification of U.S. imperialism, capitalism, and Trump's bombing of Syria.
Some of the signs the demonstrators carried also sometimes hit that theme. One read: "1898: USS Maine. 1964: Gulf of Tonkin. 2003: WMD [weapons of mass destruction]. 2018: U.S. lies again."
The large number of U.S. overseas military bases and the cost the country incurs to maintain such a network of power was also criticized by speakers.
A recent anti-war conference in Baltimore, hosted by The Nation magazine and a coalition of groups that had been planning anti-war protests, puts the number of bases at slightly more than 1,000. But that's not counting Navy ships or landing rights for U.S. military aircraft at foreign civilian airfields, speakers there noted.
"I'm sorry we haven't done enough to stop these wars on you," said Margaret Flowers of Popular Resistance.  "We cannot depend on the power structure" to avoid war in Syria or with Russia—Syria's top backer—or China, she added. "We must solve this ourselves. We can refuse to fight in these wars. We can refuse to work for their war machine" producing weapons. We can disobey by creating a culture of peace."
The anti-war groups' leaders admitted they were relatively unprepared for Trump's Syria strikes and his follow-up. "We've got to bring hundreds of thousands of people out" as war foes did against GOPer George W. Bush's war in Iraq, said Anny Ryan of Code Pink. And after the White House protest, the D.C. participants marched six blocks to nearby George Washington University to brainstorm.
Trump's follow-up could last a while: Trump's UN ambassador, Nikki Haley, told April 15 morning news shows the U.S. has three goals in Syria, including ending the chemical attacks, and would not leave until they are accomplished.
The anti-war protest was one of two marching in D.C. streets on April 14. A March for Science, previously planned, attracted thousands and also had counterpart marches nationwide. Those demonstrators were campaigning against the administration's contemptuous dismissal of scientific evidence, particularly about global warming and climate change.
"Let's make America SMART again," one D.C. science protest sign read.
At the D.C. march, speakers included public-health expert Susan Sorenson of the University of Pennsylvania, who advocated the need for research on gun violence and Pennsylvania State University Meteorology Professor David Titley, a former chief oceanographer of the U.S. Navy, Science magazine's blog reported. He had led a Navy review of the effects of global warming on the Arctic, and said that when it comes to climate, "Ultimately the facts on the ground and the evidence win."
But unlike the anti-Syria bombing demonstrators, the scientists and their allies have a political campaign going, too. Scientists usually stay out of politics, but ever since last year's massive pro-science, anti-Trump protests brought tens of thousands to the nation's capital, a political committee has been raising funds and encouraging scientist candidates to get into congressional and state legislative races.