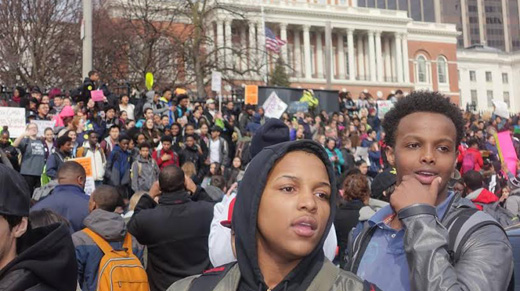 BOSTON- Thousands of Boston public school students walked out of school Monday morning to protest budget cuts and to demand more funding for education. The students gathered on Boston Common before marching to the State House and Faneuil Hall. A newsletter published by the Boston Teachers Union estimated that 7000 students participated in the walk out and protest.
After rallying at Faneuil Hall, where Mayor Walsh and Governor Charlie Baker were promoting an upcoming "Forbes Under 30" summit, many students returned to the State House to testify before the Joint Committee on Education regarding funding.
Boston public schools are facing a budget shortfall ranging somewhere between $10 million and $50 million, depending on whether you ask Mayor Marty Walsh or Superintendent Tommy Chang. The resulting cuts are expected affect teaching positions, music and art classes, librarians, language programs, extracurricular activities, and classes for students with autism.
Students and their supporters put some of the blame for the deficit on charter schools. Over $18 million of the budget deficit comes from the school system being forced to pay for students who attend charter schools. The Commonwealth of Massachusetts is required to reimburse the city for these costs but last year the school district received less than 50% of charter school expenses from the state.
The recent tax break offered to General Electric for moving their headquarters to Boston also came under fire at the protest. G.E. is expected to receive approximately $151 million in incentives from the city and state. Included in that number is a $25 million in property tax breaks from the city of Boston. This handout to G.E., a massive corporation with total assets of nearly $500 billion, could go a long way towards filling the public education budget gap.
Monday's walk out and protest was self-organized by students and received broad support from teachers, parents, and other allies in the community. Leaflets were distributed in the schools and student organizers educated their fellow students about the extent of the budget cuts and the need to take a stand for quality public education. This call to action is apparently resonating with public school students and the massive numbers who walked out yesterday indicate that this already powerful movement is just beginning.
Photo: Boston Teachers Union