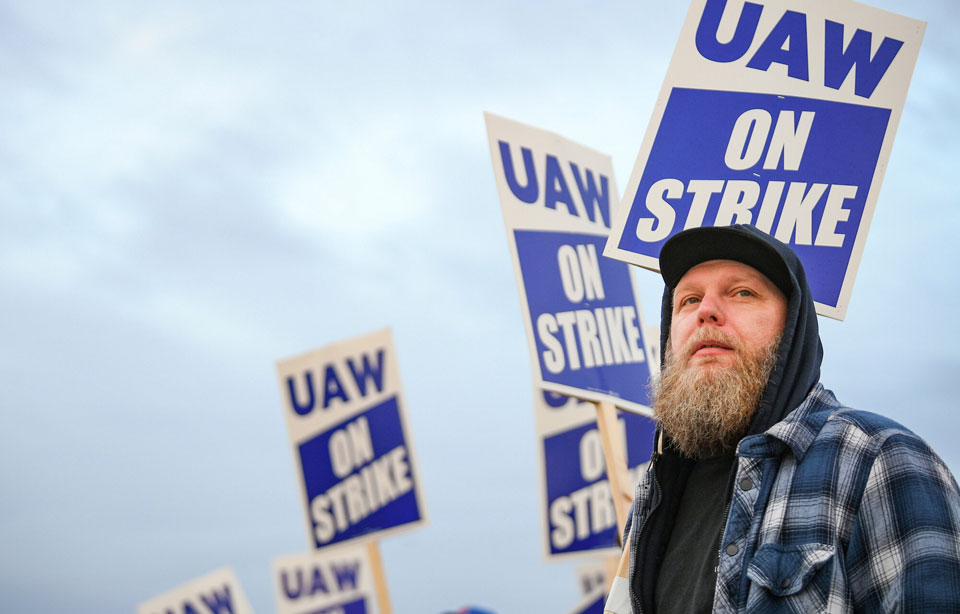 DES MOINES, Iowa—Company intransigence over changing a bad working environment and refusal to give workers decent pay—plus no pensions for new hires—forced 10,000 UAW members at John Deere heavy farm equipment plants in Illinois, Iowa, and Kansas to strike.
And the only surprise is that it's no surprise.
In what worker advocates including the AFL-CIO are calling "Striketober," bosses have forced 30 groups of workers to walk out this month, a level of strikes unseen for one month since at least the 1950s.
And that doesn't count other instances of worker rebellion against capitalist exploitation:
A potential strike forced on 60,000 stagehand members of the Theatrical and Stage Employees by film and TV producers' refusal to talk seriously about improving wages and working conditions. IATSE now says they may walk this weekend.
A new monthly record—in August–for workers who voluntarily quit, according to the Bureau of Labor Statistics.
"The number of quits increased in August to 4.3 million, 242,000 more than the month before, BLS reported on Oct. 12.. The quits rate increased to a series high of 2.9% percent." The biggest increases in workers walking away were in low-paying categories including hotels, bars, and restaurants (157,000 more quitters in August) and wholesale trade (26,000 more).
Most of the new quitters were in the South, despite its lack of unionization, and the Midwest.
A "Day of Action" by low-wage workers on Oct. 13, in New York City and elsewhere—and this time with a political point, too.
The community news website amNY reported restaurant workers, organized by One Fair Wage, gathered outside the Capital Grille just east of Times Square to demand wage hikes and to support candidates who publicly pledge to end the tipped minimum wage and replace it with $15 an hour plus a union.
They're launching a Raise The Wage Fund, too, to help "to elect candidates who publicly endorse policies that end the sub-minimum wage."
In short, the coronavirus-caused crash last year revealed the awful conditions, low pay and declining benefits workers suffered from coast to coast before it. And the strikes and other developments show they're fed up and not willing to take it anymore.
That's the sentiment among John Deere workers. Those workers, members of UAW locals in East Moline, Ill., Des Moines, Ottumwa and Waterloo, Iowa plus locals elsewhere in Iowa and Kansas, had to walk out at 12:01 am Oct. 14. They had rejected a six-year contract proposal the union's own bargainers sent to them. It was inadequate, the workers said.
The workers reportedly sought a 24% increase over the life of the contract, but bargaining cut it down to 11%-12%. The next move is for resumed bargaining.
The Strategic Organizing Center tweeted "John Deere's revenue climbed 25% to $21 billion in the first half of 2021. They can afford to do right by the workers that make their tractors."
"The company failed to present an agreement that met our members' demands and needs," UAW said in a statement on its website. Chuck Browning, director of the union's Agricultural Implement Department, added that the workers "strike for the ability to earn a decent living, retire with dignity and establish fair work rules."
"We stay committed to bargaining until our members' goals are achieved," Browning said. Union President Ray Curry noted the John Deere workers were deemed "essential" throughout the ongoing coronavirus pandemic because the farm equipment they produced helps feed the U.S., but the firm isn't treating them that way now.
Workers overwhelmingly passed a strike authorization on Sept. 12.
"A massive 'yes' vote lets the company know we are together and willing to strike if needed," Local 450 in Des Moines said then.  "Pickets have been set up and our members are organized and ready to hold out and fight for a contract they believe meets their needs," UAW Region 4 Director Ron McInroy said on the website. "Strikes are not easy, but some things are worth fighting for."
Company reps have not responded to the issue of how much money Deere is making. Instead, they have simply said they are working to "determine the priorities "of their employees.
Divide and conquer tactics rejected
Workers have been nothing but clear about their priorities. They are saying loud and clear that the wage hikes the company agreed to are insufficient and that they reject the divide and conquer tactic of taking away pensions from new hires. They are openly declaring on their picket lines that a two-tiered system like that drives down the wages of all workers, including the veteran workers.
Not only has John Deere raked in record profits this year but it is getting higher than ever prices for the equipment it is selling to the nation's farmers. The company is valued at more than $100 billion on the stock market. During the pandemic, the value of its shares has tripled.
The strike wave that has hit John Deere has been building nationwide for more than a month.
Last week Kellogg workers went on strike and over the summer Mondelez, the maker of Nabisco Oreos walked out.
Coal miners in Alabama have been on strike for months.
The activism has hit even non-union workers with workers at places like Amazon and Starbucks stepping up their attempts to unionize.
Because the Deere workers are unionized they have contracts that allow for strike pay and health insurance while they are out on the picket lines.
Under the tentative deal rejected by Deere workers, wages would have increased 5 or 6 percent this year, depending on current pay, and then 3 percent more in 2023 and 2025.
Those increases, plus the elimination of pensions for new workers were issues to which the workers on the picket lines say they objected.