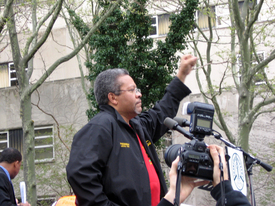 NEW YORK — Throngs of supporters gathered around Transport Workers Union Local 100 President Roger Toussaint as he led a huge April 24 march over the Brooklyn Bridge to the Manhattan jail where he began serving a 10-day sentence.
Toussaint was slapped with the jail sentence — on top of $2.5 million in fines and loss of dues check-off for his 34,000-member union — for leading TWU members, who operate the city transit system, in a three-day pre-Christmas strike. The state's Taylor Law bans strikes by public workers. The UN International Labor Organization has criticized the law as violating fundamental labor rights.
At a rally in downtown Brooklyn before the march, Toussaint was introduced as the "leader of the labor movement in this great city" by Patrick J. Lynch, head of the Patrolmen's Benevolent Association, which represents city police officers. Even using a powerful sound system, Toussaint had to yell to be heard over thousands of cheering demonstrators.
"I'm here with family," Toussaint said. "My union family, my community family." When the transit workers felt compelled to strike in December, he said, "we knew that we were taking a stand on behalf of all the working men and women in NYC on behalf of decency."
"Hard work should be rewarded with pensions and benefits and living standards that we can be proud of, rather than declining living standards," Toussaint added. "I will do 30 years [in jail] before transit workers will surrender."
The demonstration at times took on the feel of a rock concert with the crowd roaring its support for Local 100. It was chaired by United Federation of Teachers President Randi Weingarten, whose union went for years without a contract.
The rally, impressive despite being held at 4 p.m. on a workday, was organized by the state and city AFL-CIO, and had support from virtually every metropolitan area union.
Stuart Appelbaum, president of the Retail, Wholesale and Department Store Union and an officer in the Change to Win federation, told the crowd that he was there "to stand with Roger Toussaint and with our brothers and sisters of TWU Local 100."
Referring to the Metropolitan Transit Authority, Appelbaum asked, "Where are the penalties for the MTA for weeks and months, for not negotiating in good faith? Why is just Roger paying?"
AFL-CIO President John Sweeney flew to New York to speak at the rally, but flight delays prevented him from getting to the event.
"When Local 100 won the biggest transit strike in history, they held the line for all of us," Sweeney later said. "Now it is time for all of us to hold the line for Local 100 and Roger Toussaint" by raising $2.5 million, Local 100's fine, and "raising hell" to undermine the Taylor Law.
Deborah Pierce, a member of the New York State Nurses Association who works at Woodhall Hospital, told the World the TWU's actions benefited all workers.
"This is not a democratic society if you're telling people that you don't have to negotiate in good faith, and they're supposed to accept" a bad contract, she said. NYSNA has been without a contract for three years.