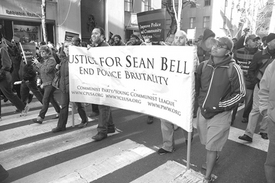 NEW YORK — Tens of thousands marched down Fifth Avenue here Dec. 16 protesting the killing of 23-year-old Sean Bell on his wedding day by New York City undercover police.
Called "Shopping for Justice," the outpouring filled block after block of Manhattan's famed avenue during the height of holiday shopping and tourist sightseeing. The Rev. Al Sharpton led the march, pushing the wheelchair of Bell's friend and fellow shooting victim Trent Benefield, 23, along with Bell's fiancée Nicole Paultre Bell. Other dignitaries included Rep. Charles Rangel (D-N.Y.) and Randi Weingarten, president of the United Federation of Teachers.
The third shooting victim, Joseph Guzman, 31, is still in rehabilitation.
"Today is my daughter's birthday," Paultre Bell said at an earlier rally in Harlem, "and instead of shopping with Daddy, we're going to be shopping for justice."
Some crowd estimates were as high as 50,000. Labor unions joined with church, civil rights and peace groups. Many of the marchers were unaffiliated with any organization but felt compelled to march by their deep anguish at another unarmed, young Black male gunned down by the New York City police.
Many were fathers with their young sons. One father said he hoped this was the only time he would have to bring his 7-year-old son to an event like this. There were mothers with their daughters, church people with their pastors, several people in wheelchairs and people with canes.
The mostly silent march was sporadically interrupted with the chant "1, 2, 3 … 50," representing the number of bullets fired on the car in which the young men were driving.
Bell, Benefield and Guzman had left a Queens nightclub about 4 a.m., Nov. 25, when they were confronted by police. Five officers fired 50 rounds on Bell's car, which had struck an undercover officer and an unmarked police van. All three men were unarmed.
During the march, one officer was asked how he dealt with policing a demonstration "against them." He said it was part of his job, and if police were not there, there would be confusion.
As it turned out, the crowd grew so large the march took up all five lanes on Fifth Avenue instead of the two lanes police had planned.
Many of those lined up along the sidewalk were American and foreign tourists. Many marchers explained the protest and what counting to 50 meant.
Marchers expressed anger, pain and puzzlement. One woman kept asking out loud, and to the police she passed on the route, how they could shoot a man who was unarmed. What made them reload? she asked. Couldn't they see that the men were not shooting back?
Unlike a previous demonstration on Dec. 9, there were very few calls for firing Police Commissioner Raymond Kelly.
The shooting is under investigation by Queens District Attorney Richard Brown, who will present evidence to a grand jury. Many have called for a special investigator, which Brown has rejected. Sharpton called for congressional hearings, a federal review of police training, a special office in the Justice Department to prosecute police crimes, and alcohol testing for undercover officers.
The march ended peacefully in front of Macy's, "the world's largest department store." Many participants said this was a beginning, not an end.
"Marches are not designed to solve a problem, marches are designed to expose a problem," Sharpton said. On one of the most famous streets in the world, this was definitely done.