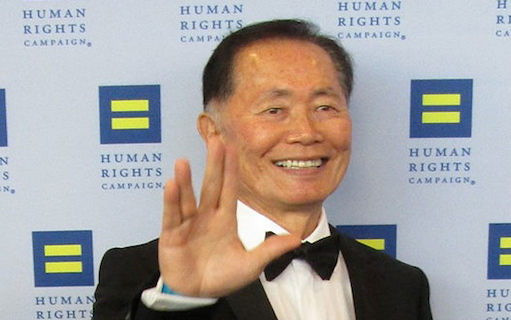 A new documentary chronicling the life of activist and actor George Takei is currently screening, to the delight of his many admirers. To Be Takei, a loving tribute to the man and his passion for life, is produced and directed by Jennifer M. Kroot. The film is not exclusively designed for Trekkies, though fans should be pleased with this cinematic profile of the actor best known for his role as Lieutenant Hikaru Sulu in the original Star Trek series. Takei's desire to play an important character at a time when Asians were rarely featured in serious roles is reflected during his on-screen discussion. He was enthused from the very start when Trek creator Gene Roddenberry offered him a part in a science fiction series that would feature a multi-ethnic crew. This groundbreaking television show is only one facet of Takei's fascinating journey, which continues today at "warp speed."
Takei is also an important voice in the continuing struggle for gay rights and marriage equality. When former Governor Arnold Schwarzenegger vetoed California's same-sex marriage bill in 2005 after it passed both houses of the state legislature, Takei came out publicly as a gay man to lend support to the cause. Same-sex marriage eventually became legal in California, and Takei has been on the front lines in this fight for equality ever since. He and his partner, Brad Altman, were married September 14, 2008, and moviegoers see footage of the happy ceremony. The intimate fabric that holds the film together is Mr. Takei and his husband. There are many personal scenes of the couple driving, chatting, and enjoying life together. The camera becomes privy to their innermost thoughts and views. The documentary has a comfortable feel to it, portraying the amiable couple in an honest, down to earth style. The relaxed pace of the movie successfully intermingles light-hearted moments with more serious subjects.
Takei's childhood experiences affected him immensely, and created emotionally charged memories he openly discusses. Americans of Japanese descent who resided on the West Coast were rounded up and forced into camps during World War II simply because of their ethnicity. His family, being of Japanese heritage, was interned at the Rohwer War Relocation Center in Arkansas for the duration. This travesty in American history eventually led to reparations many years later and an official apology from the United States government. Unfortunately, as detailed by Takei, the lives of many innocent citizens were changed forever. Japanese families, including his own, returned penniless after their release, as businesses and property were lost forever. The film presents archival footage of the Japanese internment camps, showing barbed wire and armed sentry guards. For many viewers, these images alone will leave a lasting impression. To Be Takei may initially lure moviegoers with scenes from Star Trek, but does an invaluable service by highlighting this dark period in history with Takei's stark commentary.
The documentary covers a lot of ground, including Takei's recent popularity on social media. As a consistent activist for human rights, he testified in Congress about his time spent in Japanese relocation camps, which helped lead to the Civil Liberties Act of 1988. He has been tireless in his support of progressive values, appearing at numerous speaking engagements. He says that each citizen should be an "agent of change" until there is true equality for all.
In the 1970s, Takei campaigned for Tom Bradley, who became the first African-American mayor of Los Angeles. He also narrowly lost his race for City Council of Los Angeles. Mayor Bradley later appointed him to the Southern California Rapid Transit District. Takei's direct participation in rapid transit issues helped lead to the creation of the Los Angeles subway system, as he proudly mentions in the film.
To Be Takei features commentary from his former Star Trek co-stars, including (surprisingly) William Shatner, with whom he has shared an ongoing verbal feud over the years. This should spark the interest of die-hard Trekkies. From important social issues and historical perspectives to an amusing rift between two Trek actors, there is something for everyone in this film.
Takei is a profoundly positive person: He proclaims that negativity has never been an option for him. The man continues to coordinate a busy schedule of appearances with his husband. From political activism to autograph events, he shows no sign of slowing down. The movie itself serves as an inspiration for positive thinking and achieving goals. Many viewers will definitely exit the theater smiling, and attempting their best George Takei "Oh My!" impressions on the way out!
Photo: George Takei gives the Vulcan "live long and prosper" salute at the 2014 Human Rights Campaign Gala. (CC)