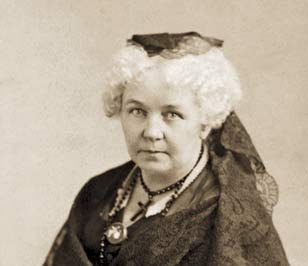 Born on November 12, 1815, in Johnstown, N.Y., Elizabeth Cady Stanton was an abolitionist and leading figure of the early women's movement. An eloquent writer, her Declaration of Sentiments was a revolutionary call for women's rights. Stanton was the president of the National Woman Suffrage Association for 20 years and worked closely with Susan B. Anthony.
Daughter of a lawyer who made no secret of his preference for another son, she early showed her desire to excel in intellectual and other "male" spheres. She could not help recognizing the power of the law to affect women's lives. She graduated from Emma Willard's Troy Female Seminary in 1832 and then was drawn to the abolitionist, temperance, and women's rights movements through visits to the home of her cousin, the reformer Gerrit Smith.
In 1840 Elizabeth Cady married a reformer Henry Brewster Stanton (omitting "obey" from the marriage oath), and they went at once to the World Anti-Slavery Convention in London, where she joined other women in objecting to their exclusion from the assembly. After returning to the U.S., Elizabeth and Henry had seven children while he studied and practiced law, and eventually they settled in Seneca Falls, N.Y.
With Lucretia Mott, Martha Coffin Wright, Mary Ann McClintock, Jane Hunt and several other women, Stanton held the famous Seneca Falls Convention in July 1848. At this meeting, the attendees drew up its "Declaration of Sentiments" and took the lead in proposing that women be granted the right to vote. She continued to write and lecture on women's rights and other reforms of the day. After meeting Susan B. Anthony in the early 1850s, she became one of the leaders in promoting women's rights in general (such as divorce) alongside the right to vote.
The Stantons moved from Seneca Falls to New York City in 1862, following a federal appointment for Henry Stanton.
In the early 1860s national attention focused on the Civil War. The women's rights movement suspended its annual conventions; but in 1863, Stanton and Anthony created the Women's Loyal National League, gathering 400,000 signatures on a petition to bring about immediate passage of the 13th Amendment to the U.S. Constitution to end slavery in the United States.
Stanton's position on female suffrage caused a schism in the women's rights movement when she, together with Susan B. Anthony, declined to support passage of the 14th and 15th Amendments. She opposed giving added legal protection and voting rights to African American men while women, black and white, were denied those same rights. Her stance on this issue, together with her thoughts on organized Christianity and women's issues beyond voting rights, led to the formation of two separate women's rights organizations that were finally rejoined, with Stanton as president of the joint organization, approximately twenty years after her break from the original women's suffrage movement.
Believing that men should not be given the right to vote without women also being granted the franchise, Sojourner Truth – a former slave and feminist known for her expression "Ain't I a woman?"- affiliated herself with Stanton and Anthony's organization.
The women's movement created its first national organization, the American Equal Rights Association, to gain universal suffrage, the federal guarantee of the vote for all citizens. But the political climate undermined their hopes. The 15th Amendment eliminated restriction of the vote due to "race, color, or previous condition of servitude" but not gender, and passed, as it was originally written, in 1870.
Stanton was a writer and editor for Anthony's newspaper, The Revolution,published between January 1868 and May 1870.
As a part of her work on behalf of women's rights, Stanton often traveled to give speeches calling for an amendment to the U.S. Constitution giving women the right to vote. Stanton also worked with Anthony and Matilda Joslyn Gage on the first three volumes of the History of Woman Suffrage (1881-86).
Although in her lifetime the woman suffrage movement made no headway on the federal level, in 1890 the territory of Wyoming entered the United States as a woman suffrage state. Later that decade, Colorado, Utah and Idaho gained woman suffrage.
Besides chronicling the history of the suffrage movement, Elizabeth Cady Stanton took on the role religion played in the struggle for equal rights for women. She had long argued about the role the Bible and organized religion played in denying women their full rights. With her daughter, Harriet Stanton Blatch, she published a critique, The Woman's Bible, published in two volumes appearing in 1895 and 1898. This work brought considerable protest not only from expected religious quarters but from many in the woman suffrage movement.
In her later years, Stanton became interested in efforts to create cooperative communities and work places. She was also attracted to various forms of political radicalism, applauding the Populist movement and identifying herself with socialism, especially Fabian socialism.
Elizabeth Cady Stanton died in 1902. More so than many other women in the movement, she was able and willing to speak out on a wide spectrum of issues – from the primacy of legislatures over the courts and Constitution, to women's right to ride bicycles, property rights, temperance,restrictive clothing for women, and girls' education – and often stirred strong emotional responses. She remains one of the most remarkable individuals in American history.
Adapted from biography.com, National Park Service, and other sources. Bicentennial events can be viewed here.
Photo: Wikipedia (CC)