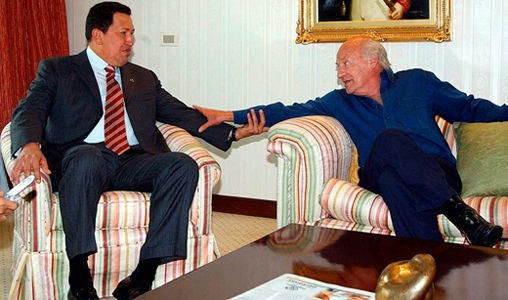 (Morning Star) "Our principal enemy is not imperialism, or the bourgeoisie, or the bureaucracy. Our principal enemy is fear and we carry it inside," one of the women who helped overthrow the Bolivian dictatorship in 1978 once told Eduardo Galeano.
The great Uruguayan journalist and writer, who died April 13, might have written those words as an epitaph to himself. If anyone consistently and courageously gave encouragement to those in struggle – particularly the indigenous populations of Latin America and the oppressed globally – it was Galeano.
Born in Montevideo, Uruguay, September 3 1940, Galeano started work at 20 and in the early 1960s was a contributor and later editor of the influential weekly journal Marcha.
Following the 1973 fascist military coup Galeano was imprisoned and later forced to flee Uruguay. His seminal 1971 book Open Veins of Latin America – which catalogues the pillage of the continent by European and later U.S. colonialism and imperialism over five centuries – was banned by the right-wing military governments in his native country, Chile and Argentina, where he settled for a short time before being forced to flee again to Spain in 1976 following General Jorge Videla's bloody coup.
The Open Veins was the book Venezuelan president Hugo Chávez gave to Barack Obama at the opening of the Summit of the Americas in 2009. U.S. columnist Andres Oppenheimer described it as "a diatribe whose underlying theme is that Latin America's poverty is caused by U.S. imperialism" and, in lurid prose that must have amused Galeano, stated that Obama showed misplaced appreciation for the gift "considering that Chávez's gesture was the equivalent of presenting Adolf Hitler's Mein Kampf to an Israeli president." The book subsequently went to number two on the Amazon best-seller list.
When exiled in Spain he wrote Memory of Fire, regarded as one of the most powerful literary indictments of colonialism in the Americas. The trilogy – Genesis, Faces and Masks and Century of the Wind – combines history, journalism and biography in an incandescent prose.
As former Uruguayan president Jose Mujica has said of his writing: "He worked a gigantic path which helped all Latin Americans understand our roots. His work did more than illuminate truths – it painted our suffering and our shared feelings.
"Galeano imbued this work with a thorough effort unearthing even native-American legends and went on to discover a kind of telluric past depicting ancestral cosmologies which lay at the heart of the history of America." He was a "sharer of dreams, of hopes, of pain, of frustrations and a gigantic love for life."
In 1985 Galeano returned to Montevideo and, following the victory of the Broad Front alliance in the 2004 Uruguayan elections – which ushered in the first left-wing government in Uruguayan history – backed the new administration.
The Uruguayan people had used "common sense," he stated, because they were "tired of being cheated" by the traditional Colorado and Blanco parties.
In 2005, Galeano joined the advisory board of the pan-Latin American television station TeleSur based in Caracas, Venezuela. He was a supporter of the Bolivarian revolution and an unswerving, though unromantic, friend of Cuba. "I have never confused Cuba with paradise so why should I now confuse it with hell?" he once remarked. "I am just one among those who believe that Cuba can be loved without lying or shutting up (about it)."
"Fidel Castro is a symbol of national dignity. For us Latin Americans – who have been humiliated for over 500 hundred years – he is an endearing symbol."
Throughout his career, Galeano was showered with academic and literary awards in the U.S., Scandinavia, his native Uruguay and Latin America, where he gained the prestigious Casa de las Américas prize in 1975, 1978 and 2011.
One of his last books, Mirrors: Stories of Almost Everyone, typifies his extraordinary output. These short stories, some only a few paragraphs long, provide historical insights and radical perspectives on everything from the origins of fire to football – one of Galeano's great obsessions – and along the way pays homage to communist leaders like Lenin, Fidel Castro and Ho Chi Minh.
In a recent interview, Galeano restated his literary mission. It was to give voice to "the nobodies: the no-ones, the nobodies, running like rabbits, dying through life, screwed every which way. Who are not, but could be. Who don't speak languages, but dialects. Who don't have religions, but superstitions. Who don't create art, but handicrafts. Who don't have culture, but folklore. Who are not human beings, but human resources. Who do not have faces, but arms. Who do not have names, but numbers. Who do not appear in the history of the world, but in the crime reports of the local paper. The nobodies, who are not worth the bullet that kills them."
Galeano never lost sight of that mission and it is why his books will endure as long as the "nobodies" exist.
Reposted from Morning Star and published in PW on April 21, 2015.
Photo: In 2005 Galeano met with the President of Venezuela, Hugo Chavez Frias, at the Embassy of Venezuela in Montevideo, when Chavez attended the Summit of Presidents of Mercosur.
This content was originally published by http://www.teleSURtv.netat the following address: http://www.telesurtv.net/multimedia/Los-momentos-insignes-en-la-vida-de-Eduardo-Galeano-20150413-0013.html.