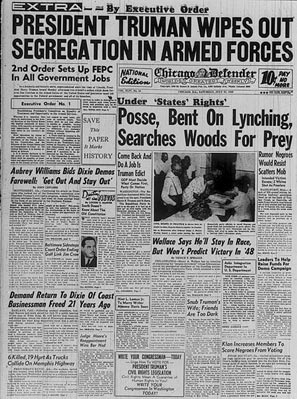 On this day in 1948, President Harry Truman ordered the desegregation of the United States armed forces.
Truman's Executive Order 9981 stated, "It is hereby declared to be the policy of the President that there shall be equality of treatment and opportunity for all persons in the armed services without regard to race, color, religion or national origin. This policy shall be put into effect as rapidly as possible, having due regard to the time required to effectuate any necessary changes without impairing efficiency or morale."
The also created the President's Committee on Equality of Treatment and Opportunity in the Armed Services, which was to examine the "rules, procedures and practices of the Armed Services" as well as to "confer and advise the Secretary of Defense, the Secretary of the Army, the Secretary of the Nave, and the Secretary of the Air Force, and shall make such recommendations to the President" to ensure that the orders provisions were carried out.
The executive order was in response to public demand for an end to segregation. In 1947, A. Philip Randolph and Grand Reynolds formed the Committee Against Jim Crow in Military Service and Training, which later became the Non-Violent Civil Disobedience Against Military Segregation.
The last all-black unit in the U.S. military was disbanded six years later.
Photo via Wikipedia.