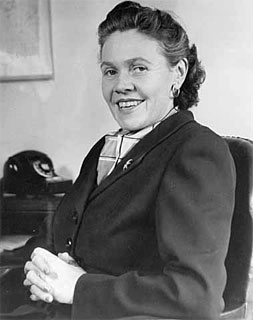 On this date in 1949, Helen Eugenie Moore Anderson became the first woman to hold the post of U.S. ambassador when she was sworn in by Pres. Harry S Truman. She served as ambassador to Denmark. She served in that capacity from 1949 to 1953.
Anderson was born as Helen Eugenie Moore in 1909 in Adair, Iowa, one of five children of Rev. Ezekial A. Moore, a Methodist minister, and his wife, FloraBelle. She concentrated in music as a student, and attended the Juilliard School in New York, hoping to become a concert pianist. She married John Pierce Anderson in 1929 and had two children.
A trip to Europe in 1937 sparkedAnderson's interest in international affairs. In Germany she first saw a totalitarian state in action. When she returned, she joined the League of Women Voters and spoke frequently for LWV audiences, fighting the strong isolationist policies of the time. She poured her energy into Democratic Party politics in Minnesota, helping to create the Minnesota Democratic-Farmer-Labor Party (DFL) in 1944. She became an early supporter of the United Nations.
In 1948 Anderson was one of the few women elected to an office in the national Democratic Party. In that year, as the DFL split from the national Democratic Party in a controversy over goals and ideology, she supported Hubert H. Humphrey.
As U.S. ambassador to Denmark, she quickly endeared herself to the Danish people by learning their language and traveling throughout the country. In 1951, she helped to negotiate an agreement that allowed the U.S. to use air bases in Greenland, a Danish possession. She also helped to draft a new Treaty of Commerce and Friendship with Denmark, and then became the first American woman to sign a treaty.
In 1962, Pres. John F. Kennedy named her ambassador to Bulgaria(1962-64), making her the first female chief of a U.S. diplomatic mission in the socialist bloc. She skillfully negotiated a settlement of U.S. financial claims still outstanding from World War II. In Sofia, she roiled the Bulgarian police by handing out literature about the United States at a local fair.
Beginning in 1965, Anderson served as a member of the U.S. delegation to the United Nations and became the first woman to sit on the Security Council.
After her retirement from these posts, Pres. Lyndon Johnson appointed Anderson to the United Nations Trusteeship Council. She then served on the United Nations Committee for Decolonization.
Anderson died in 1997 at the age of 87. Her papers are housed at the Minnesota Historical Society.
Sources: Chase's Calendar of Events, diplomacy.state.gov. The Wikipedia entry on Anderson links to an hour-long television interview from 1951.