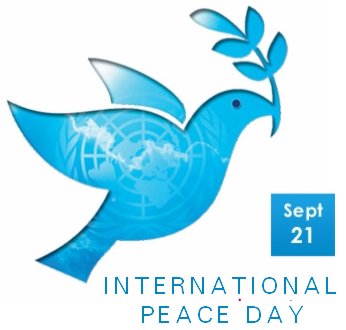 In 1982, the United Nations General Assembly declared, in a resolution sponsored by the United Kingdom and Costa Rica, the International Day of Peace, sometimes unofficially known as World Peace Day, to be devoted to commemorating and strengthening the ideals of peace.The date initially chosen was the regular opening day of the annual sessions of the General Assembly, the third Tuesday of September. This was changed in 2001 to the current annual celebration on September 21 each year.
Today is also a day of global ceasefire and non-violence.
To inaugurate the day, the United Nations Peace Bell is rung at UN Headquarters in New York City. The bell was cast from coins donated by children around the world, and was a gift from the United Nations Association of Japan, as "a reminder of the human cost of war"; the inscription on its side reads, "Long live absolute world peace."
In 2015 the theme is "Partnerships for Peace – Dignity for All."
Past years have focused on other themes such as"International Year of Reconciliation"in 2009; "Peace and Democracy: Make Your Voice Heard" (2011); "Sustainable Peace for a Sustainable Future" (2012); "Focus on Peace Education" (2013); and "The Right of Peoples to Peace" (2014).
In 2003, after George W. Bush launched the war on Iraq, editor Sam Hamill assembled a volume of "Poets Against the War" (Thunder's Mouth Press/Nation Books, New York). Here is the contribution from Santa Monica, Calif. poet Sherman Pearl:
The Poem in Time of War
should wake the city shouting EXTRA! EXTRA!
then whisper the story behind the story
like a conspirator. It should be short, stirring
as the president's call to arms;
soft enough for a flag at half-mast;
strong enough to stiffen the bereaved;
spacious enough to serve as a body bag.
The poem should carry the news that men
die miserably for lack of. It is
a brief on behalf of the living, a paper megaphone
for the voices of the dead. It must be
the world's last will and testament, a listing
of what will be left. It steals from forebears:
Sassoon's doomed diary and Auden's call to love.
The poem would be a prescription for healing
but who could read such a scrawl? … or a bandage
over the wounds, except that blood
tends to obliterate words.
Maybe all the war poems could be sewn together
into a vast thick quilt we'd pull around
our shoulders; might warm us on nights like this.
Article adapted from Wikipedia.