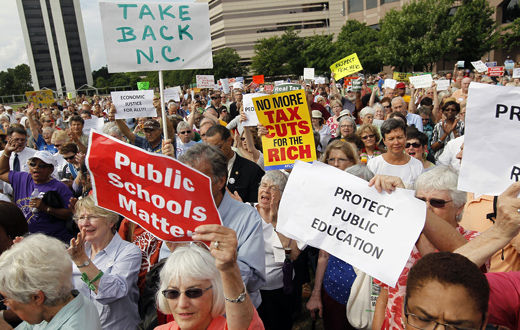 On this date in 2013, the first Moral Monday was held in Raleigh, the N.C. state capital, to protect voting rights, access to affordable healthcare and unemployment benefits. Seventeen people were arrested exercising their democratic rights.
In 2012, North Carolina elected a Republican governor, Pat McCrory, and Republicans were voted into majority in both state houses, giving the GOP control of both the legislative and executive branch for the first time since 1870. Since assuming office, McCrory has signed into law a number of reactionary bills. The dramatic right-wing tilt of state government – in a state which Barack Obama won in 2008 – has raised the ire of ongoing "Moral Mondays" civil disobedience protestors.
Moral Monday demonstrations have continued weekly, attracting thousands of N.C. citizens at a time, with mass arrests – well over a thousand by now. The movement has spread to Ga., S.C. and other states. Although inspired by the prophetic moral dictates of a number of religious movements represented, participants comprise a very broad coalition of supporters of labor rights,, LGBT rights, criminal justice reform, expanded public school funding environmental issues, Medicaid expansion, and immigrant rights (N.C. has a fast-growing Latino community that is just beginning to show its voting power), and restoring early voting days. Moral Monday has shown the efficacy and necessity for coalition politics in the struggle against the ultra-right.
In his initial 2013 call for action, Rev. William Barber wrote: "(W)e have no other choice but to assemble in the people's house where these bills are being presented, argued, and voted upon, in hopes that God will move in the hearts of our legislators, as he moved in the heart of Pharaoh to let His people go. Some ask the question, why don't they be quiet? Well, I must remind you, that it has been our collective silence that has quietly opened the city gates to these undemocratic violators of our rights."
Moral Monday has been described as "the largest love and justice movement since Selma."
The Moral Monday movement is led by the Rev. Dr. William Barber, who was elected president of the NAACP's youth council at age 15, president of his high school's student body at 17, and student government president at North Carolina Central University (NCCU) at 19. Barber received his bachelor's degree in political science from NCCU, cum laude; a Master of Divinity degree from Duke University; and a doctorate from Drew University with a concentration in public policy and pastoral care. Barber is head of the N.C. chapter of the NAACP, largest in the South and among the largest in the country.
Rev. Barber is a dynamic public speaker whose remarks, like these at Netroots Nation 2014 have riveted his listeners with a positive message of hope and determination.
From combined sources.
Photo: Demonstrators at the first Moral Monday event. | Chris Seward/AP