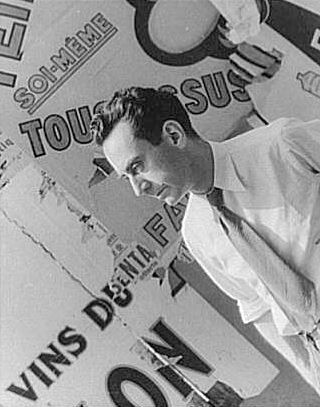 On this date in 1890, Man Ray (né Emmanuel Radnitzky) was born in South Philadelphia, the eldest child of Russian Jewish immigrants. He wound up spending most of his career in France as a significant contributor to the Dada and Surrealist movements. He produced major works in a variety of media, including painting, but was best known for his photography, collages, assemblage, performance art, conceptual art, and "photograms," which he called "rayographs."
Around the turn of the 20th century, his family moved to the Williamsburg neighborhood of Brooklyn, and changed their surname to Ray in reaction to the prevalent anti-Semitism of the time.
Man Ray's father worked in a garment factory and ran a small tailoring business out of the family home, enlisting his children to assist him from an early age. Man Ray's mother enjoyed designing the family's clothes and inventing patchwork items from scraps of fabric. This family background left an enduring mark on his art. Mannequins, flat irons, sewing machines, needles, pins, threads, swatches of fabric, and other items related to tailoring appear in almost every medium of his work. Art historians have noted similarities between Ray's collage and painting techniques and styles used for tailoring.
As a youth Man Ray befriended the artist Marcel Duchamp, who was interested in showing movement in static paintings. Such movement is seen in the repetitive positions of the dancer's skirts in Man Ray's painting "The Rope Dancer Accompanies Herself with Her Shadows" (1916). He began to be exhibited in solo shows, and produced his first significant photographs in 1918.
Man Ray abandoned conventional painting to involve himself with Dada, a radical anti-art movement founded by young European artists profoundly disillusioned by society in the wake of the monstrous insanity of World War I. He started making objects and developed unique mechanical and photographic methods of making images. Like Duchamp, he did "readymades" – ordinary objects that are selected and modified. His "Gift" readymade (1921) is a flatiron with metal tacks attached to the bottom, and "Enigma of Isidore Ducasse" is an unseen object (a sewing machine) wrapped in cloth and tied with cord. Echoes of his childhood are readily apparent: It is fair to speculate about the sense of absurdity and futility he must have seen often in sweatshops and home-centered garment manufacture in New York City.
Man Ray teamed up with Duchamp to publish one issue of "New York Dada" in 1920, but for Man Ray, Dada's experimentation was no match for the wild and chaotic streets of New York. He wrote that "Dada cannot live in New York. All New York is dada, and will not tolerate a rival."
For much of the remainder of his life Man Ray repatriated himself to France, where he integrated himself into the boundary-pushing esthetics of cubism, surrealism, and constructivism. From Paris the influence of these movements spread worldwide, including to the young Soviet Union, where artists, architects, musicians and filmmakers enjoyed their freedom to explore new "machine art" techniques and principles.
In 1959 the critic Edouard Roditi cited the poem "Dada Slogans, Berlin, 1919":
DADA
stands on
the side of the revolutionary
Proletariat
open up at last
your head
Leave it free
for the
demands of our age
Down with art
Down with
bourgeois intellectualism
Art is dead
Long live
the machine art
of Tatlin
DADA
is the
voluntary destruction
of the
bourgeois world of ideas.
Man Ray died in 1976, and was buried at the Montparnasse cemetery in Paris. In 1999, ARTnews magazine named him one of the 25 most influential artists of the 20th century. In 2013, Man Ray's photograph Noire et Blanche (1926), depicting a Caucasian woman's face counterposed with a West African mask, was featured in the USPS Modern Art in America series of stamps.
Adapted from Jewish Currents "This Week in Jewish History," Wikipedia, and "Theories of Modern Art: A Source Book by Artists and Critics," by Herschel B. Chipp (University of California Press, 1968).