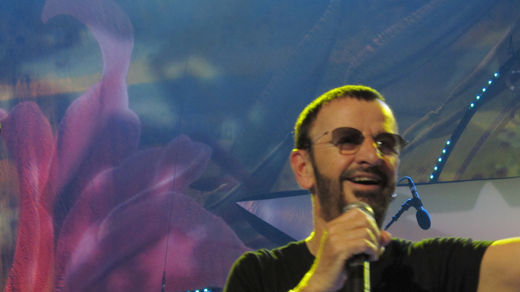 Ringo Starr, legendary drummer for the Beatles, and a world-renowned advocate for peace, was born as Richard Starkey in Liverpool, England, on this date in 1940.
Ringo also sang, wrote songs and acted with the Beatles in Hard Days Night and Help, and later on his own. He sang lead on "With a Little Help from My Friends," "Yellow Submarine" and their cover of "Act Naturally." He also wrote the Beatles' songs "Don't Pass Me By" and "Octopus's Garden," and co-wrote "Photograph" with George Harrison.
In 1957, he cofounded his first band, the Eddie Clayton Skiffle Group, which had moderate success before the American rock and roll craze took over. When the Beatles formed in 1960, Starr was a member of another Liverpool group, Rory Storm and the Hurricanes. He quit the Hurricanes and joined the Beatles in August 1962, replacing drummer Pete Best. The Beatles broke up in 1970, after inspiring a generation of young people at the height of the Vietnam War era to strive for more peace and love in the world.
Starr achieved commercial and critical success with his 1973 album Ringo, which was a top ten release in both the UK and the U.S. He has been featured in a number of documentaries and hosted television shows. Since 1989, he has successfully toured with variations of Ringo Starr & His All-Starr Band.
Starr's creative contribution to music has received praise from critics, as well as fellow percussionists. Drummer Steve Smith said: "Before Ringo, drum stars were measured by their soloing ability and virtuosity. Ringo's popularity brought forth a new paradigm…. We started to see the drummer as an equal participant in the compositional aspect…. His parts are so signature to the songs that you can listen to a Ringo drum part without the rest of the music and still identify the song."
Starr, who was previously inducted into the Rock and Roll Hall of Fame as a Beatle in 1988, was inducted for his solo career in 2015, making him one of 21 performers inducted more than once.
Along with the other members of the Beatles, in 1965 Ringo was made a Member of the Order of the British Empire (MBE) for his contributions to British culture.
Ringo Starr invites everyone to celebrate #PEACEANDLOVE on his birthday today. He will appear at Capitol Records in Los Angeles at noon PST, and invites fans around there world to join the celebration and share a message of #PEACEANDLOVE at noon wherever you are. Put up a peace sign and say out loud or to yourself, "Peace and love!"
Adapted from Wikipedia and other sources.
Photo: Ringo Starr concert in Paris June 26, 2011 : Ringo Starr and his All-Starr Band. CC 3.0.