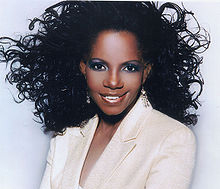 Beatrice Melba Hill, best known by her stage name, Melba Moore, was born on this date in New York City in 1945, the daughter of saxophonist Teddy Hill and R&B singer Bonnie Davis. She was raised in Harlem until she was 9 and her divorced mother remarried jazz pianist Clement Leroy Moorman. She attended Newark Arts High School in Newark, N.J.
It was her stepfather Moorman who became a prime influence and encouragement in Moore's musical pursuits, insisting that she learn to play the piano. She graduated from Montclair State University with a Bachelor of Music Education degree, then briefly worked as a music teacher, but soon decided to pursue the spotlight. She chose her stage name by shortening her stepfather's surname and using her middle name.
Moore began her performing career in 1967 as Dionne in the original cast of the musical Hair along with Ronnie Dyson and Diane Keaton, whom she replaced in the role of Sheila. In 1970, she won a Tony Award for Best Performance by a Featured Actress in a Musical for her portrayal of Lutiebelle in Purlie. Following Purlie, Moore landed two big-screen film roles, released two successful albums, 1970's I Got Love and Look What You're Doing to the Man, and co-starred with actor Clifton Davis in a variety television series. She returned to Broadway in 1978 when she appeared with Eartha Kitt in Timbuktu!
In 1975 Moore signed with Buddah Records and released the critically successful R&B album, Peach Melba, which included the minor hit, "I Am His Lady." The following year she scored her first significant hit with "This Is It," which reached the Billboard Hot 100, the top-20 position on the R&B chart, and top-10 in the UK. In 1976 she scored her third Grammy nomination with a cover of the R&B ballad "Lean on Me." Moore scored another hit with 1979's "You Stepped Into My Life," which reached the top 20 on the R&B charts.
Throughout the 1980s Moore kept the hit songs coming, with the dance-pop/funk single "Love's Comin' At Ya," "Keepin' My Lover Satisfied,""Love Me Right,""Livin' For Your Love," "Read My Lips," "When You Love Me Like This," the duet "A Little Bit More" with Freddie Jackson,"Falling," "Love the One I'm With (A Lot of Love)" and "It's Been So Long." In 1986, Moore headlined the CBS television sitcom Melba; its debut aired the same night as the Challenger explosion and the show was abruptly cancelled.
At the end of the 1980s she recorded two further Top 10 R&B hits, "Do You Really (Want My Love)" and "Lift Every Voice and Sing" (which also featured a number of other great artists). Moore was the first female pop artist to do a non-operatic solo concert at New York's Metropolitan Opera House.
Melba Moore was instrumental in having "Lift Every Voice and Sing" inducted in the United States Library of Congress as the official Negro National Anthem. She worked closely with Dr. Dorothy I. Height and the National Council of Negro Women as their national membership chairwoman. She also worked with Dr. C. Delores Tucker and the National Congress of Black Women. Ms. Moore also devoted much effort on behalf of children, especially those who were abandoned, abused, born with AIDS, or addicted to crack.
Moore returned to Broadway in 1995 landing the role of Fantine in Les Misérables. A year later, she started her long-running one-woman show, Sweet Songs of the Soul, later renamed I'm Still Standing. In 2003, Moore was featured in the film, The Fighting Temptations, which starred Cuba Gooding, Jr. and Beyoncé. In 2007, she appeared in the Broadway revival of Ain't Misbehavin'.
Sources: Wikipedia and the Melba Moore official website.
Photo: Wikipedia (CC)