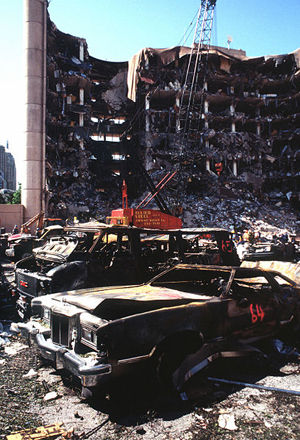 On this day in 1995, downtown Oklahoma City was devastated by a domestic terrorist bomb attack on the Alfred P. Murrah Federal Building. It proved to be one of the most brutal attacks on U.S. soil in history prior to the September 11th attacks. It also coincides today, perhaps in an uncomfortable twist of irony, with an ongoing manhunt for the surviving suspect of the vicious bombing in Boston, Mass.
The Oklahoma explosion (caused by a detonated truck bomb) took 168 lives including 19 children, and injured 680 people. It destroyed or damaged 324 buildings near the area and caused at least $652 million worth of damage. One of the perpetrators, Timothy McVeigh, was stopped 90 minutes after the terrorist act, when a state trooper caught him driving without a license plate and arrested him for unlawfully carrying a weapon.
McVeigh and accomplice Terry Nichols were quickly linked with the attack, while Michael and Lori Fortier were soon identified as additional accomplices. McVeigh was a Gulf War veteran and a militia sympathizer who had hatred for the federal government.
While today is the anniversary of the attack, it is also a deadly reminder of it, given recent ongoing events related to the attacks on Boston.
Photo: The federal building two days after the disaster. Wikipedia