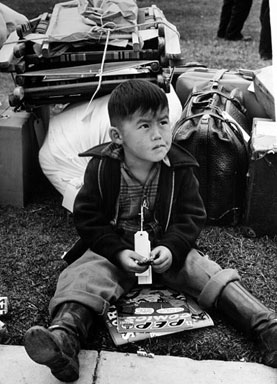 Today in labor history, December 17, 1944, President Roosevelt lifted the "military-necessary exclusion" of Japanese Americans from the West Coast, marking the beginning of the end of a dangerous and shameful chapter of American history: mass incarceration of U.S. citizens and residents because of their race.
After Japan bombed Pearl Harbor, the West Coast erupted in hysteria of fear against Japanese Americans as "the Fifth Column" and "the enemy within" – a fear created by inflammatory journalism, pressure groups, politicians, and the U.S. Army. A profound suspicion of Japanese Americans had quickly led to cries for their expulsion. U.S. President Franklin D. Roosevelt signed Executive Order 9066 ten weeks after the bombing, authorizing the removal of any or all people from military areas "as deemed necessary or desirable." The military in turn defined the entire West Coast, home to the majority of Americans of Japanese ancestry or citizenship, as a military area.
In the following months, the Army rounded up some 120,000 Japanese Americans living on the West Coast and forced them into internment camps in some of the country's most desolate areas. For the next two and a half years, many of these Japanese Americans endured extremely difficult living conditions and poor treatment by their military guards.
Relocation after incarceration was difficult, especially since prejudice still ran high in the West Coast. Many Issei (first generation Japanese Americans) never regained their losses, living out their lives in poverty and poor health. Collectively, Japanese Americans lost up to $400,000,000 in property during the war.
During the course of World War II, 10 Americans were convicted of spying for Japan, but not one of them was of Japanese ancestry. In 1988, the U.S. agreed to recompense each surviving internee with a tax-free check for $20,000 and an apology from the federal government.
Photo: Child from Salinas, Calif., is tagged for evacuation with his family (Library of Congress/Wikimedia)