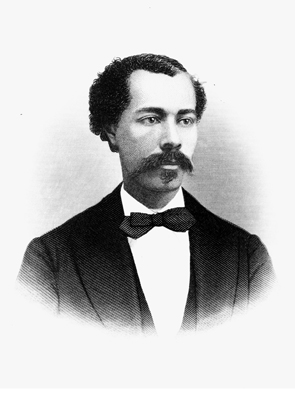 On this day, in 1872 John Roy Lynch, an African American former slave, was elected speaker of the Mississippi House. Lynch was 24 years old at the time. The Mississippi legislator went on to serve a number of terms in the Mississippi legislature and the U.S. Congress representing the former slave state. Largely self-educated, he passed the Mississippi bar and practiced law there and in Chicago. In the debate on the Civil Rights Act of 1875 he wrote,
"They were faithful and true to you then; they are no less so today. And yet they ask no special favors as a class; they ask no special protection as a race. They feel that they purchased their inheritance, when upon the battlefields of this country, they watered the tree of liberty with the precious blood that flowed from their loyal veins. They ask no favors, they desire; and must have; an equal chance in the race of life."
In 1877 federal troops were removed from the South and Radical Reconstruction was betrayed. Lynch went on to a long and distinguished career. He served as temporary chairman of the Republican National Convention and in the U.S. army as a captain. Lynch also was a person of letters and challenged Southern historiography claiming that people of color were unfit to govern and made no contribution during Reconstruction. He died at 92 in Chicago. Long live Radical Reconstruction!
Image: Lynch, via Wikipedia.