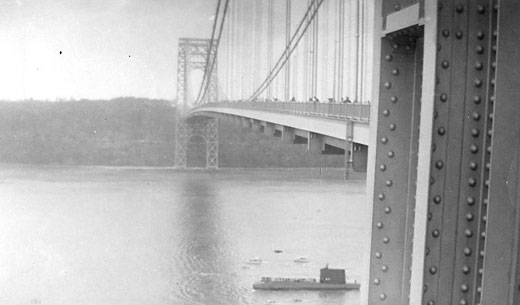 It was on Oct. 1, 1931 that the George Washington Bridge, a suspension bridge spanning the Hudson River and connecting Manhattan in New York City to Fort Lee in New Jersey, was officially inaugurated.
It held the title of being the longest suspension bridge in the world until it was surpassed by the construction of the Golden Gate Bridge in San Francisco.
The original design for the towers of the bridge called for them to be encased in concrete and granite but because of the economic constraints of the Great Depression, this was never done. In the end, the exposed steel towers, with their distinctive criss-crossed bracing, have become the most identifiable and artistically praised features of the bridge.
At least 12 workers were killed during the construction of the bridge.
The first disaster struck when the cofferdam for the New Jersey tower's north foundation, hit with the full pressure of the Hudson River, buckled and three men drowned. The accident happened early in the day. Had it been later, hundreds could have been in that dam.
Workers were also killed when explosive charges went off prematurely after having been improperly placed in Palisades Rock.
It is not known how many workers, above the official toll of 12, may have died during the pouring of the immense quantity of concrete that forms the New York anchorage of the bridge. Witnesses said they saw at least three fall in, entombed forever.
For a long time it was also believed that the bodies of Prohibition-era gangsters were routinely deposited in the wet concrete of the New York anchorage.
Others say bridge workers often, for the fun of it, told reporters anxious for details a variety of elaborate stories like these, adding over the years to the numbers of gangsters and others supposedly deposited in the wet concrete.
Photo: The USS Nautilus passes under the George Washington Bridge in 1956. Arnold Reinhold/Wikipedia