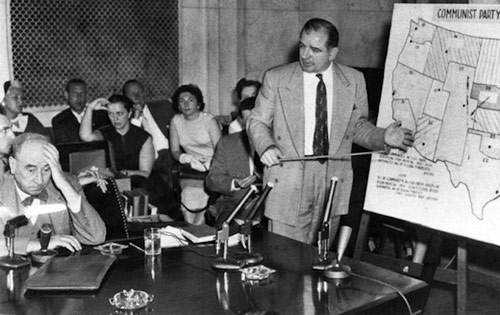 On December 2, 1954 the U.S Senate votes 65-22 to condemn Senator (R-WI) Joseph McCarthy for "conduct that tends to bring the Senate into dishonor and disrepute." Even with this vote McCarthy would continue to serve as a U.S. Senator until his death in 1957.
The term McCarthyism was coined during the 1950s to describe the action Joseph McCarthy took in attacking political opponents. Political opponents that included anyone that supported civil rights, labor and other progressive causes. The Cold War tensions was used as an excuse to attack the Communist Party USA and other left wing groups that formed a vital part of the new deal coalition during the period before WWII. The McCarthy witch-hunts also extended to homosexuals at the same time they where hunting for "communists." This was referred to as the lavender and red scares respectively.
McCarthy gained much infamy from the tactics his deployed in his witch-hunts and it lead to his being one of the few senators in history to be disciplined. The disciplinary acts were brought about by his fellow Republican senators who had become disgusted with actions. Senator Ralph Flanders who introduced the resolution for McCarthy to be censured said ""Were the Junior Senator from Wisconsin in the pay of the Communists he could not have done a better job for them." After the censure what would be the final years of McCarthy was mostly ignored. His public image had been ruined and his fellow Republican senators isolated him politically and socially. McCarthy died at the age of May 2, 1957, at age 48 in Bethesda Naval Hospital of acute inflammation of the liver caused by hepatitis.
Wikipedia and People's History contributed to this article.
Photo: Chief Senate Counsel representing the United States Army and partner at Hale and Dorr, Joseph Welch (left), with United States Senator Joe McCarthy of Wisconsin (right), at the Senate Subcommittee on Investigations' McCarthy-Army hearings, June 9, 1954. (Wikipedia)