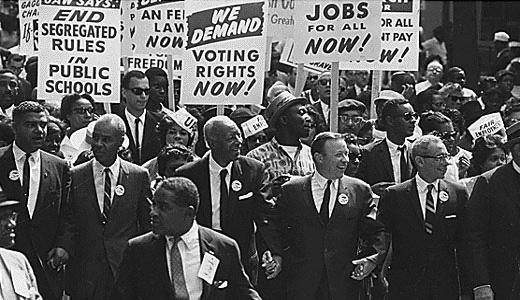 On July 24, 1968, Teamsters President Frank Fitzsimmons and UAW President Walter Reuther formed the Alliance for Labor Action. They were soon be joined by several smaller unions.
This national trade union center organized unorganized workers and pursued progressive political and social projects.
Fitzsimmons and Reuther were the only labor leaders present at the funeral of Martin Luther King, Jr. on April 9 of that year.
The ALA launched an ambitious organizing campaign in the fall of 1969 targeting black workers in Atlanta, Georgia. It had a $4 million dollar budget, involving 50 staff organizers, 200 volunteer member-organizers and an extensive public relations campaign.
The ALA supported the civil rights movement and vocally opposed the war in Vietnam, which included endorsing anti-war rallies and taking part in peace marches. The ALA also advocated fighting for universal health care.
The Alliance existed until it disbanded in January 1972
Photo: Walter Reuther takes part in a civil rights march in Washington, circa 1963. Wikipedia