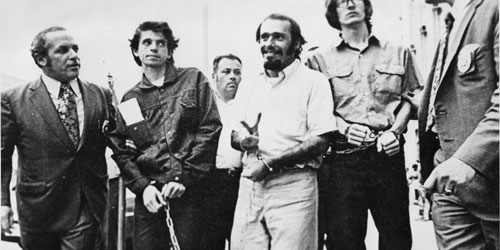 On August 21, 1971, a group of anti-war protestors raided the draft offices in Buffalo, N.Y. and Camden, N.J. The group of men and women arrested referred to themselves as "America's conscience." The government called them the "Camden 28" after their arrest.
In 1971, right-wing Republican Richard Nixon was president. Hundreds of thousands of civilians, U.S. military, Vietnamese military and guerillas, and military from other countries had been killed in the Vietnam War. Daniel Ellsberg had leaked the Pentagon Papers and The New York Times began to publish them in June. Some veterans had joined the Vietnam Veterans Against the War. The year before, antiwar protesting students had been shot – some killed – at Kent State and Jackson State.
Members of the Camden 28 were associated with the Catholic left. The group contained Catholic priests, a Protestant minister and blue-collar workers. The main goal of the group was to make a statement against the war in Vietnam by sabotaging a portion of the draft process. The plan was to break into the draft offices and destroy the records of all Class 1-A status draft registrants.
Unknown to the group, one of their members had turned into an FBI informant. On the night of the raid the FBI carefully monitored and documented the group as they proceeded to collect and destroy draft documents. After some time had passed the FBI moved in and arrested the activists. They arrested 20 people at the raid and later eight others would be arrested in connection to the raid. They were charged with destruction of government property and interfering with the Selective Service System. If convicted, they would face up to 47 years in prison.
The Camden 28 where brought to trial in the spring of 1973. Immediately prior to the trial they where offered a plea-bargain where they would each plead guilty to a single misdemeanor charge and the rest of the charges would be dropped. They refused the plea-bargain and decided to stand trial.
After several months, the case went to jury. Judge Fisher informed the jury they could acquit if they felt government participation in setting up the crime had gone to "intolerable" lengths. After three days of deliberation, a jury of seven women and five men returned a verdict of not guilty on all charges against them.
Photo: popmatters.com