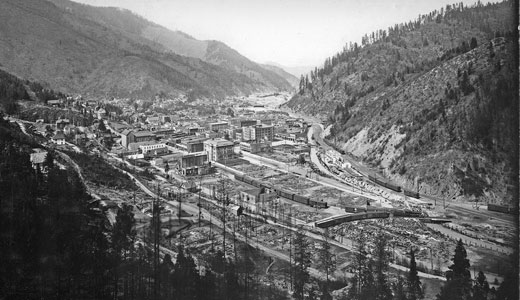 In the summer of 1910, a devastating series of forest fires swept over Idaho, Montana, and Washington, culminating on August 20 in what is known as the "Big Blowup."
President William Taft sent 4,000 troops to supplement thousands of workers and firefighters battling the blazes, and by August 19, it appeared the fires were successfully being extinguished.
On August 20, however, hurricane-force winds swept through the region, fanning embers and low flames back to life all across the Northern Rockies. There was no stopping or containing the fire. Workers rushed to their jobs on the trains, evacuating towns just ahead of the flames. Forester Edward G. Stahl recalled that flames hundreds of feet high were "fanned by a tornadic wind so violent that the flames flattened out ahead, swooping to earth in great darting curves, truly a veritable red demon from hell."
Workers trapped on the job throughout the region had to find ingenious ways to survive. Miners, for example, huddled for many hours in mineshafts under wet blankets to keep from perishing. They took turns battling thick smoke and haze to wet down the blankets covering their coworkers.
The fire burned more than three million acres, an area larger than the size of the state of Connecticut, with at least 92 killed. Smoke from the fire reached Maine and Massachusetts and soot from the fire settled on Greenland.
After the fire, the Forestry Service developed the first comprehensive program to fight and prevent fires and the federal government became involved, employing technology and science in an ongoing national effort. Some of the tools used even today to fight fires were actually invented by workers battling the Great Fire of 1910. Eventually the model we have today, one that employs the use of fire itself as a weapon in the overall fire-fighting effort was developed.
Photo: Image of a town completely destroyed after the fire went through. Idaho Historical Society