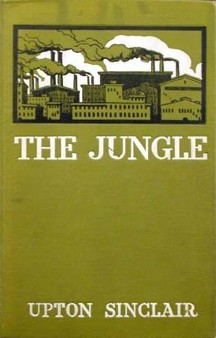 Upton Sinclair, a poor young socialist determined to do his part to make a better world, wrote his incredible book titled "The Jungle" in the tarpaper shack in Princeton that was his home. Page after page in the book is filled with the nauseating details of how the meatpacking industry was preparing America's food.
When the book came out Sept. 20, 1906 it became an instant best seller.
The nation was shocked as it learned about the conditions in the Chicago stockyards.
Sinclair told how dead rats were shoveled into sausage-grinding machines; how bribed inspectors on the payroll of the companies looked the other way when diseased cows were slaughtered for beef, and how filth and guts were swept off the floor and packaged as potted ham.
Within months a gagging, but aroused population demanded sweeping reforms in the meat industry.
President Theodore Roosevelt, who became physically ill after reading an advance copy, demanded that Congress establish the Food and Drug Administration and , for the first time, set up federal inspection standards for meat.
At the age of 28 Sinclair was viewed as the man who took on a mighty industry and won.
Sinclair spent months in the Chicago stockyars, mingling with the immigrant workers he described as "wage slaves."
Over their kitchen tables in their tenement apartments he heard them tell about the backbreaking, mind-numbing work they did for totally inadequate wages. He said he worked on The Jungle for three months, "pouring into the pages all the pain" he had experienced.
Since the book's publication federal regulation of the food industry has been considered part and parcel of the things that are good about America. Not until the tea bagger Republicans of today came on the scene has that ever been challenged.