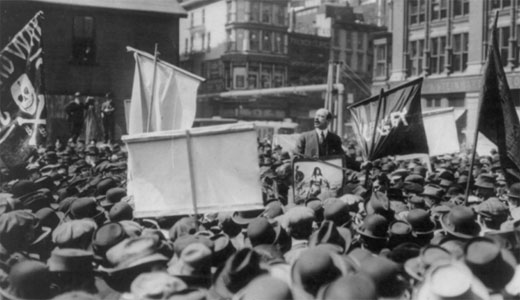 On July 23, 1892 Alexander Berkman took a shot at and stabbed Henry Clay Frick, the steel magnate. Intending to kill Frick he also had a bomb that, had it gone off, would have killed both him and the steel magnate. Frick survived the attack.
Berkman tried to kill the wealthy industrialist to avenge the Homestead, Pa. massacre that took place 18 days earlier. Nine striking workers had been killed.
Berkman's actions were, of course, not condoned by the union and were in fact used by the bosses to paint the workers' historic strike as a lawless and violent action.
The Homestead strike began when the steel magnate Andrew Carnegie reduced wages at his steel mill in Homestead, Pa. and the union workers refused to accept the cut. When they refused the cut he locked out the workers, hired replacement workers (scabs) and 300 company goons responsible for attacking and killing workers determined to fight for dignity and for the right to earn the ability to feed and clothe themselves and their families.
The power of big money eventually won out and the strike, after a few months, was broken. It helped laid the basis, however, for a powerful trade union movement in the steel industry where organization and struggles for justice, not individual acts of terrorism, became the successful method of choice for workers struggling for their rights.