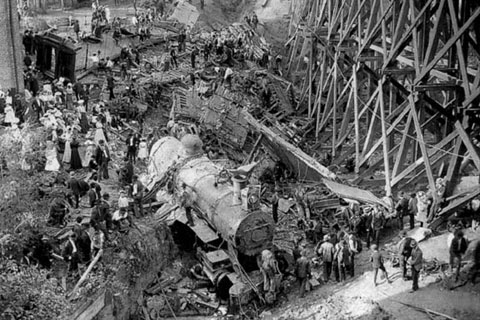 Old 97 was a Southern railway train officially known as the Fast Mail. On Sept. 26, 1903, while en route from Monroe, Va. To Spencer, N.C., the train derailed at Stillhouse Tressle near Danville, Va. The wreck inspired a famous workingclass ballad.
The wreck of Old 97 happened when the engineer, Joseph A. ("Steve") Broady, at the controls of engine number 1102, was operating the train at high speed, under orders from the railroad company to stay on schedule and arrive at Spencer on time. (Fast Mail had a reputation for never being late.)
The derailment left 11 of the eighteen on board dead and the remaining seven injured. Among the dead were engineer Broady, the conductor, and the flagman. The bodies of both firemen were recovered but they were so mangled that they were unrecognizable.
In order to make up for delays, Broady had to increase, under company orders, the normal speed from 39 mph to at least 51 mph. mainting that speed through what otherwise would normally have been scheduled-stop locations. He was not allowed to drop below the 51 mph even around tight radius curves and when going up steep inclines.
This made Broady unable to sufficiently reduce speed as he approached the curve leading into the tresle, causing the entire train to derail and plunge into the ravine below. The flames that erupted as the train crashed into the ravine consumed the wooden cars. Only a fraction of the mail on the train survived, including a large case filled with canaries that managed to escape and fly to safety.
The Southern railway tried to blame Broady, the dead engineer, disavowing that they had ordered him to run as fast as possible. They had a lucrative contract with the Post Office to haul mail. In the contract was a penalty clause for each minute the train was late into Spencer.
The ballad the wreck inspired has been recorded by many artists including Johnny Cash, Charlie Louvin, Pink Anderson, Boxcar Willie, Pete Seeger, and the Seekers.
The lyrics:
Well they gave him his orders at Monroe, Virginia
Sayin' Steve you're way behind time
This is not 38, it's old 97
You must put her into Spencer on time
Then he turned around and said to his black greasy fieman
Shove on a little more coal
And when we cross that White Oak Mountain
Watch old 97 roll
But it's amighty rough road from Lynchburg to Danville
And from Lima it's on a three mile grade
It was on that grade that he lost his air brakes
See what a jump he made
He was goin' down the grade makin' 90 miles an hour
When his whistle broke into a scream,
He was found in the wreck with his hand on the throttle
A-scalded to death by the steam
Then the telegraph came to Washington station
And this is how it read
Oh that brave engineer that run old 97
He's a lain' in old Danville dead
So now all you ladies you better take a warnin'
From this time on and learn
Never speak harsh words to your true lovin' husband
He may leave you and never return
Photo: Wikipedia