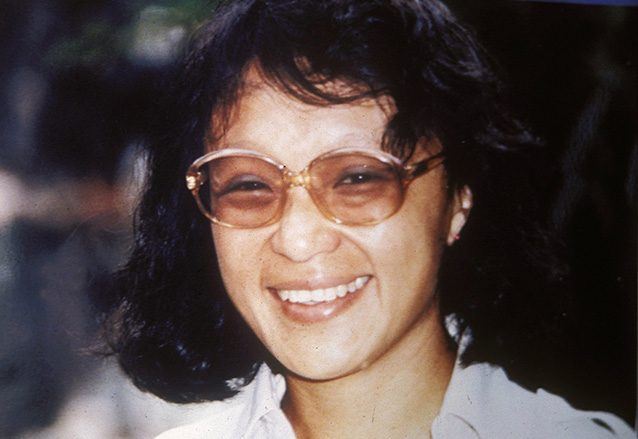 The date of Sept. 11 will "live in infamy," as President Franklin D. Roosevelt said of the December 7, 1941 bombing of Pearl Harbor. Sept. 11 was the date in 1973 when Pres. Salvador Allende of Chile was overthrown in a bloody coup by the U.S.-supported military, inaugurating two decades of the fascist Augusto Pinochet régime. It is of course also the date in 2001 when terrorists hijacked planes flying out of Boston and plane-bombed the World Trade Center and other American sites – despite advance warnings that came in to the George W. Bush administration which chose to ignore them.
Today is the 25th anniversary of another incident:
Myrna Mack Chang, born in 1949, was a Guatemalan anthropologist. On September 11, 1990, she was murdered by a military death squad – trained and funded by the United States – because of her criticism of the Guatemalan government's treatment of the indigenous Maya, and its human rights abuses against the people.
Myrna Mack Chang was born in Barrio San Nicolás, Retalhuleu Department, in southwest Guatemala. Her mother was Chinese and her father was Mayan. Myrna had a younger sister Helen. After attending local schools, Mack went abroad for college. She studied anthropology in the United Kingdom, at the University of Manchester and Durham University.
Upon returning to Guatemala, Mack conducted fieldwork among several of the many Maya campesino communities that were uprooted during the civil war. She became sympathetic to their cause and became more of a human rights activist. Working closely with the indigenous peoples, she learned about the attacks made against them by government forces, funded under the Ronald Reagan, and then George H. W. Bush anti-communist and anti-indigenous policies.
On September 11, 1990, she was assassinated outside her office in Guatemala City. She was stabbed 27 times by an armed forces death squad – trained at the School of the Americas – because she had criticized the government for its human rights abuses of the Mayan people. One may only speculate if the September 11th date had been chosen because of its enormous resonance throughout Latin America because of the coup in Chile.
Her sister, mother and associates took up her case, determined to win justice for her death. Following the peace accords and end of the overt civil war, Guatemala began taking actions to document abuses during the civil war, with testimony collected by the National Commission. Her sister Helen Mack filed a case with the Inter-American Human Rights Commission in Washington, D.C., and later with the Inter-American Court of Human Rights in Costa Rica.In 1993 she set up the Fundación Myrna Mack to honor her memory, support the prosecution of the case of her sister's murder, and to do other work defending human rights.
On November 25, 2003, the court ruled that Mack had been killed by government forces. In April 2004, following the judgment issued by the Inter-American Court of Human Rights, the Guatemalan government publicly acknowledged that its agents had committed the killing of Myrna Mack. It provided her next-of-kin with a financial compensation package as part of the court settlement.
Helen Mack was honored with a Right Livelihood Award in 1992 "for her personal courage and persistence in seeking justice and an end to the impunity of political murderers." She continues to work for human rights and has received other recognition for it.
Adapted from Wikipedia.