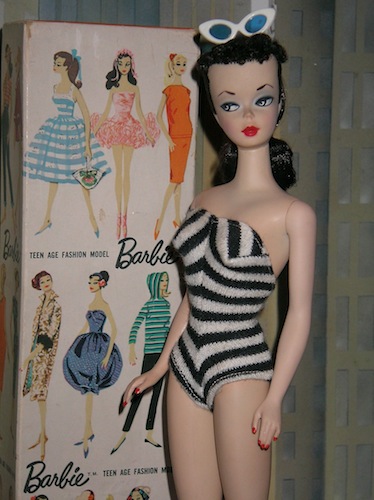 American businesswoman Ruth Handler, who was married to an officer of the Mattel toy company, created the Barbie doll, using a German doll called Bild Lilli as her inspiration. Mattel launched Barbie as a fashion doll at the American International Toy Fair in New York on March 9, 1959, the date that is considered her official birthday. Bild Lilli and Barbie were the first commercially sold dolls to feature the mature adult female figure.
Barbie became the figurehead of an extensive and highly lucrative brand of Mattel dolls and accessories, including other family members and collectible dolls. Around 350,000 Barbie dolls were sold during the first year of production. Barbie has been an important part of the toy fashion doll market for going on 60 years, capturing the fantasies of generations of young girls. Barbie has also been the subject of numerous controversies and lawsuits, often involving parody of the doll and her lifestyle.
Five years after Barbie's birth, following the laws of monopoly capitalism, Mattel acquired the rights to her "older sister," the Bild Lilli doll, and ceased its production.
Marketed as a "Teen-age Fashion Model," Barbie was available as either a blonde or brunette (only her hairdresser knew for sure), and first appeared with her signature topknot ponytail. The first Barbie dolls were made in Japan, their clothes hand-stitched by Japanese homeworkers. Over time Barbie products included not only the dolls with their clothes and accessories, but also a small empire of Barbie-branded books, apparel, cosmetics and video games. Barbie has appeared in films and is a supporting character in Toy Story 2 and Toy Story 3.
Mattel has estimated that over a billion Barbie dolls have been sold worldwide in over 150 countries, claiming that three Barbie dolls are sold every second. Barbie was among the first toys to have a marketing strategy based on television advertising. Critics of the processed food industry and other consumer goods have often pointed to the pernicious effect of television on the buying habits of American parents and families. It is no coincidence that TV ads targeting children are both so cleverly devised, and so in need of regulation.
How big is Barbie?
The standard range of Barbie dolls and related accessories are manufactured to approximately 1/6 scale, or "playscale." Children consider Barbie a role model and have attempted to emulate her. One of the most common criticisms of Barbie is that she promotes an unrealistic idea of body image for a young woman, leading to a risk that girls who attempt to emulate her will become anorexic.
At the 1/6 playscale of 11.5 inches tall, Barbie translates to a height of 5 feet 9 inches. Her vital statistics have been estimated at 36- 18 – 33. According to research by the University Central Hospital in Helsinki, Finland, she would lack the 17 to 22 percent body fat required for a woman to menstruate. In 1963, the outfit "Barbie Baby-Sits" came with a book entitled "How to Lose Weight," which advised: "Don't eat!" The same book was included in another ensemble called "Slumber Party" in 1965 along with a pink bathroom scale permanently set at 110 lbs., which would be around 35 lbs. underweight for a woman 5'9″. Mattel said that the waist of the Barbie doll was made small because the waistbands of her clothes, along with their seams, snaps, and zippers, added bulk to her figure. Only as late as 1997 was Barbie's body mold redesigned and given a wider waist; Mattel explained that this would make the doll better suited to contemporary fashion designs.
On March 13, 1961, Mattel launched the Ken doll, Barbie's "all-American" boyfriend, who also came with appropriate clothes and paraphernalia, although he was famously far from "anatomically correct." After four decades of on-and-off "dating," Ken and Barbie never married. Once the LGBT movement emerged in the 1960s and '70s, it occurred to some wags that perhaps Ken was gay.
Barbie the commodity fetishist
Barbie is the pre-eminent symbol of commodity fetishism. She has owned a wide range of vehicles, including pink Corvette convertibles, trailers, and jeeps. But Mattel has also had to answer critics who see her as a mindless bimbo. In time she acquired a pilot's license, and operates commercial airliners in addition to serving as a flight attendant. Several of her careers are designed to show that Barbie can take on a variety of roles in life: Her doll avatars have included a wide range of titles including "Miss Astronaut Barbie" (1965), "Doctor Barbie" (1988), and "Nascar Barbie" (1998).
Mattel entered the multicultural marketplace by debuting a "Colored Francie" in 1967, sometimes described as the first African American Barbie doll ("colored" was of course already a dated term by then). However, she was produced using the existing head molds for the white Francie doll and lacked African characteristics other than a dark skin. The first official African American doll in the Barbie catalogue is usually regarded as Christie, who made her debut in 1968. Black Barbie was launched in 1980 but still had Caucasian features. In September 2009, Mattel introduced the "So In Style" range, intended to create a more realistic depiction of black people than previous dolls.
If you're in the doll business, it must be hard to wean yourself away from the sexism that presumes certain social roles for girls and women. In July 1992, Mattel released "Teen Talk Barbie," which spoke a number of phrases including, "Will we ever have enough clothes?" "I love shopping!" and "Wanna have a pizza party?" Each doll was programmed to say four out of 270 possible phrases, so that no two given dolls were likely to be the same. One of these phrases was "Math class is tough!" Although only about 1.5 percent of all the dolls sold said the phrase, it led to criticism from the American Association of University Women. In October that same year, Mattel announced that Teen Talk Barbie would no longer complain about math class, and offered a swap to anyone who owned a doll that did.
In 1997, Mattel joined forces with Nabisco to launch a cross-promotion of Barbie with Oreo cookies. "Oreo Fun Barbie" was someone with whom little girls could play after class and share "America's favorite cookie." As had become the custom, Mattel manufactured both a white and a black version. Critics argued that in the African American community, "Oreo" is a derogatory term meaning that the person is "black on the outside and white on the inside," like the cookie itself. The doll was unsuccessful and Mattel recalled the unsold stock, making it sought after by collectors.
And still trying to be trendy and politically correct, in May 1997, Mattel introduced "Share a Smile Becky," a doll in a pink wheelchair. But Kjersti Johnson, a 17 year-old high school student in Tacoma, Washington with cerebral palsy, pointed out that the doll would not fit into the elevator of Barbie's $100 Dream House. Mattel announced that it would redesign the house in the future to accommodate the doll.
One has to wonder if Mattel is in permanent need of some good old 1970s consciousness-raising. In November 2014 critics lambasted Mattel over the book "I Can Be a Computer Engineer," which depicted Barbie as being inept at computers and requiring that her two male friends complete all of the necessary tasks to restore two laptops after she downloads a virus onto them. Other books in the "I Can Be…" series depicted Barbie as someone who was competent in those jobs and did not require outside assistance. Mattel removed the book from sale.
USA Today has ranked Barbie at number 43 on its list of the 101 Most Influential People Who Never Lived.
Adapted from Wikipedia.
Photo: Wikipedia (CC)