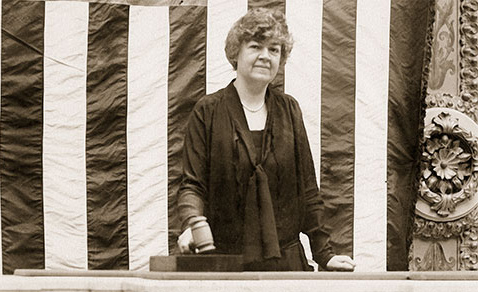 Once upon a time there existed moderate, even in certain ways progressive Republicans. Edith Nourse Rogers (March 19, 1881 – Sept. 10, 1960) was the sixth woman elected to Congress, the first from Massachusetts, and until 2012, the longest serving Congresswoman.
In her 35 years in the House she was a powerful voice for veterans, sponsoring more than 1,200 bills, over half on veteran or military issues. These included the 1942 bill that created the Women's Army Auxiliary Corps (WAAC), the 1943 bill that created the Women's Army Corps (WAC), and the Servicemen's Readjustment Act of 1944 (commonly known as the G.I. Bill), providing educational and financial benefits for soldiers returning home from WWII. These were democratic advances that gave tangible recognition to both men and women who served in the nation's armed forces.
In her volunteer work late in World War I, and in its aftermath, both in Europe and with the Walter Reed Army Medical Center in Washington, D.C., Rogers witnessed the conditions faced by women working with the armed forces. Excepting a few nurses, they were civilians who received no benefits – no housing, food, insurance, medical care, legal protection, pensions, nor compensation for their families in case of death. In Congress she twice chaired the Committee on Veterans' Affairs, and was the first woman to preside as House Speaker pro tempore.
As a Republican Rogers opposed expanded business regulations under the New Deal, but also opposed child labor, and fought for equal pay for equal work and a 48-hour work week for women. In 1939 she tried, though unsuccessfully, to pass a Jewish refugee settlement bill.
After World War II, during the Red Scare, Rogers supported the House Committee on Un-American Activities and wanted to move the UN headquarters out of the U.S. In 1954, as the French colonialists were being defeated on the ground, she opposed sending U.S. soldiers to Vietnam.
The career of Edith Rogers as a New England Republican could hardly be replicated today. In her day politicians could sometimes work productively across the aisle for the greater interest of the American people.
Photo and source: Wikipedia. Edith Nourse Rogers of Massachusetts presides over the House Chamber in this image from 1926 of the Collection of the U.S. House of Representatives.