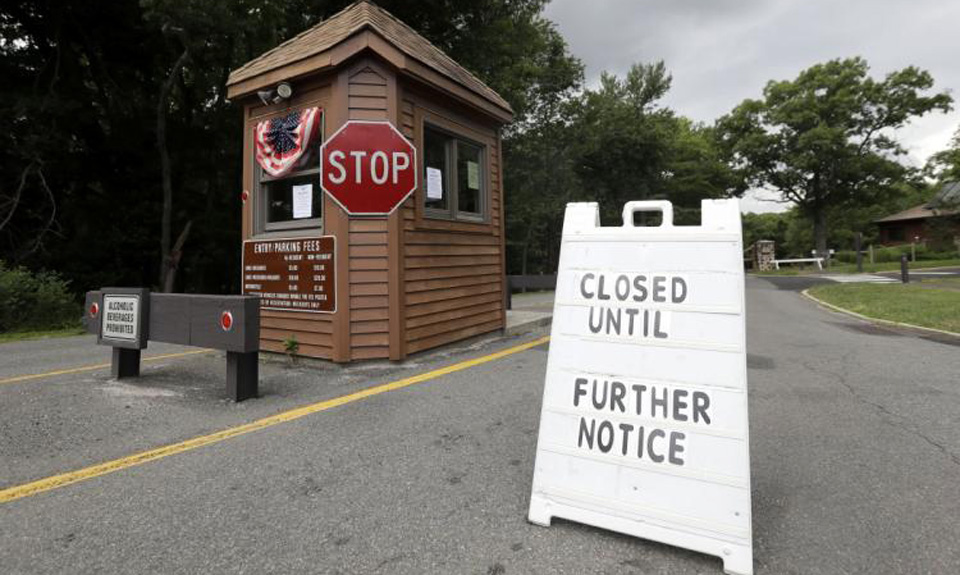 WASHINGTON—Republican President Donald Trump's threat to close down the federal government unless the GOP-run Congress funds his border wall with Mexico is "utterly irresponsible," the leader of the largest federal workers union says.
Trump made the threat during his August 22 campaign speech in Phoenix, Ariz. He not only touted the controversial wall, but claimed some federal workers he met earlier that day – specifically Border Patrol and Immigration and Customs Enforcement agents – support it.
"But believe me, if we have to close down the government, we're building that wall!" he told the picked crowd in Phoenix. They responded with mass rhythmic chants of "Build that wall! Build that wall!" and "USA! USA!"
Government Employees (AFGE) President J. David Cox retorted on August 23 that holding the entire government hostage to money for the wall "is utterly irresponsible." Cox adds Trump's plan will hurt the entire U.S., not just federal workers. Congress must pass legislation by the end of September to keep the government going.
"Government shutdowns compromise the safety of the American public," Cox explained. "Using American civil servants as a bargaining chip illustrates that President Trump's priorities are not to take care of the American people. In a government shutdown, millions of American families pay the price.
"Without a federal budget, our small businesses and potential home buyers will be left without loans. Our seniors will be left without essential benefits and assistance from the Social Security Administration. Our scientists will be forced to abandon their work finding cures and treatments for disease. And our national parks, monuments, and museums will close."
Right-wing Republicans, organized and egged on by Sen. Ted Cruz, R-Texas, forced the prior shutdown several years ago. More than 2 million workers went without pay, and some of them, such as correctional officers, were declared vital and had to work anyway. The corrections officers, the Border Patrol and the ICE agents, along with workers in a wide range of other agencies, are among AFGE's 314,000 members.
Cox said then the shutdown forced families to miss rent and car payments and sometimes go without groceries. Later a group of workers sued for just the minimum wage they were owed – which federal law requires – plus overtime, and won several million dollars.
"President Trump is threatening to hold our federal budget hostage so he can get his pet project finished, something he promised Mexico would pay for, not the American public," Cox added.
Trump first pushed the border wall scheme when he announced his presidential candidacy last year, appealing to nativist and anti-Latino voters. He coupled it with a generalization of Mexican immigrants as rapists and worse.
He also promised Mexico would pay for the wall. Mexican politicians of all political hues denounced his scheme and said their nation would not pay for it, either. So Trump turned to Congress to fund the first section of the wall, but lawmakers rejected his request in the money bill for the fiscal year ending Sept. 30. Now he wants more.
At least one measure gives it to him: The House GOP's version of the defense money bill for the year starting Oct. 1, passed July 30, accedes to Trump's full request for $1.6 billion for "bollards and levee improvements" as a start on construction of the wall. The Senate has yet to consider and debate the money bill, the idea has attracted huge Democratic opposition there, making the funding less likely.