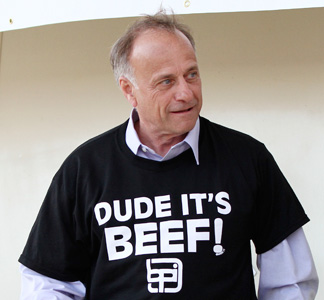 CHICAGO – This weekend, Mitt Romney endorsed Republican Rep. Steve King for reelection Nov. 6, calling him a "partner in DC."
If your friends are your mirror, progressives note, Romney's reflection falls far short of being a pretty one. Over the last six months, King has compared immigrants to dogs, has declared that incest doesn't lead to pregnancy, and has campaigned extensively with the religious zealot Pat Robertson, noted for his hate speech.
Robertson said, after Hurricane Katrina had ravaged New Orleans, that the disaster was punishment from God for rampant homosexuality in that city.
King's comparison of immigrants to dogs was made Sept. 7 when he called for construction of an electric border fence. Describing immigrants as "birddogs," King said we should take only the "friskier" ones, "not the ones over there sleeping in the corner."
Explaining his support for an electric fence, he said, "We do this with livestock all the time."
On the same day, King also said that multi-racial groups are "about self pity."
The ultra-right recipient of Romney's endorsement was one of the few Republicans who refused to condemn Missouri Rep. Todd Akin for his remarks regarding pregnancy and rape. After Akin set off the firestorm, King told an Iowa reporter that he had never heard of someone getting pregnant from rape or incest.
King, Akin, and GOP vice presidential candidate Paul Ryan are co-sponsors of a House bill that redefined rape as "forcible."
Progressives note that the Romney-backed King has taken the most extreme right-wing positions on almost every other issue.
On opposition to animal rights, King is in step with Romney who apparently has no problem with strapping dogs to the roofs of cars. King has a long legislative record of defending dog fighting, enabling the torture of animals on farms, and weakening food safety standards.
Photo: In this March 31 photo, Rep. Steve King during a free public picnic featuring burgers made with lean finely textured beef, also known as "pink slime," Jim Lee/ The Sioux City Journal/AP