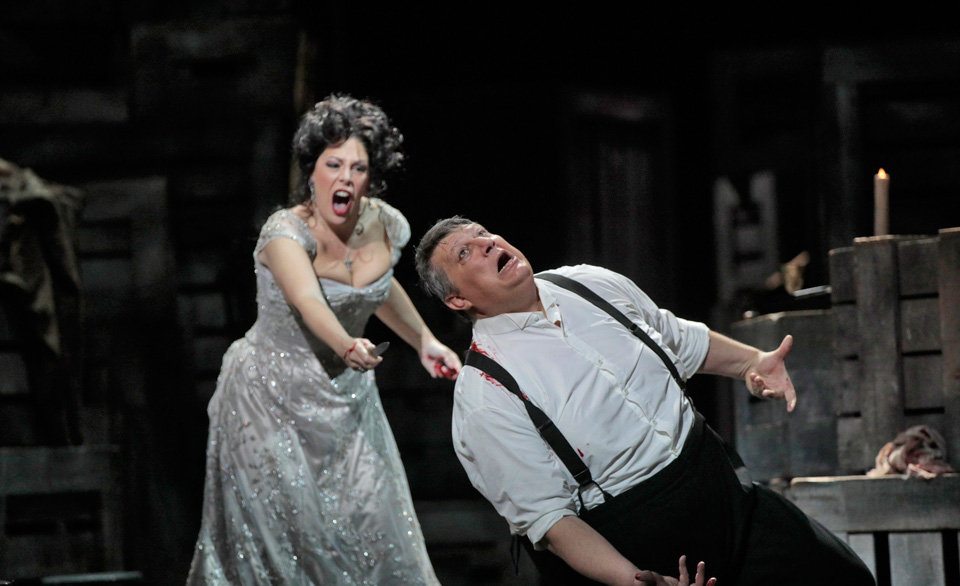 It never fails to amaze how what we see on stage or screen often reflects what's going on in the real world—aka "out there in TVLand." For instance, I previously pointed out how LA Opera's recent production of Mozart's 18th-century The Abduction from the Seraglio, set in a Turkish milieu, mirrored today's ongoing debate over Islamic extremism versus so-called "moderate Muslims." Now, hard on the heels of Bill O'Reilly's (long overdue) ouster from Fox News, Giacomo Puccini's 1900 opera Tosca is being performed on the boards of the Dorothy Chandler Pavilion.
And you don't have to be a clinical psychologist like Dr. Wendy Walsh to analyze the opera's theme of sexual harassment and how it relates to scandals perpetrated by authoritarian men. Isn't it clear how rightwing politics favoring the rich and powerful fits together with abusive treatment of women? It's all of a piece.
In the three-act Tosca, the title character, Floria Tosca (soprano Sondra Radvanovsky reprising the role she first performed for LA Opera in 2013), is a renowned opera singer in Italy during the Napoleonic era (Melody Moore plays the role on May 13). The Napoleonic Wars form the backdrop of this tragedy, as republican ideals derived from the French Revolution threaten the powers-that-be in Rome. The "Eternal City" has been under the thumb of the reactionary, hapless Hapsburgs, those royal creeps who put the "nasty" into dynasty. Political prisoner Cesare Angelotti (bass-baritone Nicholas Brownlee) busts out of the big house at Castel Sant'Angelo (a cylindrical building built ca. 135 CE that's one of Rome's most famous landmarks) and according to a plan flees to the Church of Sant'Andrea della Valle.
There, the painter Mario Cavaradossi (tenor Russell Thomas) is working on a painting of Mary Magdalene. Mario agrees to hide Cesare, who had been imprisoned by the notorious Scarpia (a baritone role portrayed April 22, 27 and 30 by Ambrogio Maestri, on May 2, 5 and 7 by Greer Grimsley and on May 13 by Kihun Yoon), a relentless law and order bloodhound who is to opera what Inspector Javert, of Victor Hugo's Les Misérables (Les Mis), is to literature (and Broadway). Under the guise of worshiping, the famous Floria goes to the church to visit her lover Mario. When Scarpia enters, she becomes ensnared in his manhunt for the escapee.
The tyrannical Scarpia imprisons and tortures Mario in another of the production's nods to events taking place beyond the confines of the theatre, where excessive use of force by police against African Americans is a major issue generating protests by Black Lives Matter and others.
To prevent Mario's execution, Scarpia gives the beautiful opera diva an ultimatum that Bill O'Reilly would be familiar with: Floria must have sex with the despicable police chief or Mario will face the firing squad. To avoid robbing those unfamiliar with Tosca—based on Victorien Sardou's play, with a libretto by Giuseppe Giacosa and Luigi Illica—of the joy of surprise, I'll stop describing the story here.
The production's performances are top notch: Thomas' rendition of "Strange Harmony" ("Recondita armonia"), like Radvanovsky's of the aria "Love and Music" ("Vissi d'arte"), rocked the Chandler's rafters, earning well-deserved ovations. Conductor James Conlon and chorus director Grant Gershon (who conducts the final performance on May 13) do justice to Puccini's rich, sonorous score. From solo to mass scenes, the opera is well directed by Englishman John Caird in his LA Opera debut.
Bunny Christie reprises her scenery and costumes from the company's 2013 Tosca, helping to set both the time and place. The sets are truly exquisite and effective, while Duane Schuler's lighting enhances the action and is awards-worthy. The sold out opening night audience gave the cast and crew a rousing standing ovation for LA Opera's final production of the season onstage at the venerable Chandler.
Some may disdain opera as old fashioned, but with its themes of political prisoners, republicanism (the Danton/Marat, not the GOP kind) and sexual harassment, Puccini's masterpiece remains, alas, all too relevant for 21st-century audiences. Thankfully, today we have bold women like Anita Hill, Dr. Wendy, Lisa Bloom, Gloria Allred, et al, bravely standing up against sexual predators. Their artistic archetype—one, anyway—is this opera's courageous heroine, Floria Tosca.
Tosca will be performed April 27, May 2, 5 and 13 at 7:30 pm, and April 30 and May 7 at 2:00 pm at L.A. Opera at the Dorothy Chandler Pavilion, 135 N. Grand Ave., Los Angeles 90012. See here for more information.
LA Opera returns with the world premiere of Thumbprint June 15, 16, 17 and 18 at REDCAT, at the Walt Disney Concert Hall, 631 West 2nd Street, Los Angeles 90012. See here for further information.
See Dr. Wendy discuss sexual harassment here.
Film historian/reviewer Ed Rampell is co-presenting Esther Shub's documentary The Fall of the Romanovs on Fri., April 28 at 7:30 pm at The L.A. Workers Center, 1251 S. St. Andrews Place, Los Angeles 90019 as part of the ongoing "Ten Films That Shook the World" series celebrating the centennial of the Russian Revolution, taking place on the fourth Friday of each month through October. For info: laworkersedsoc@gmail.com.