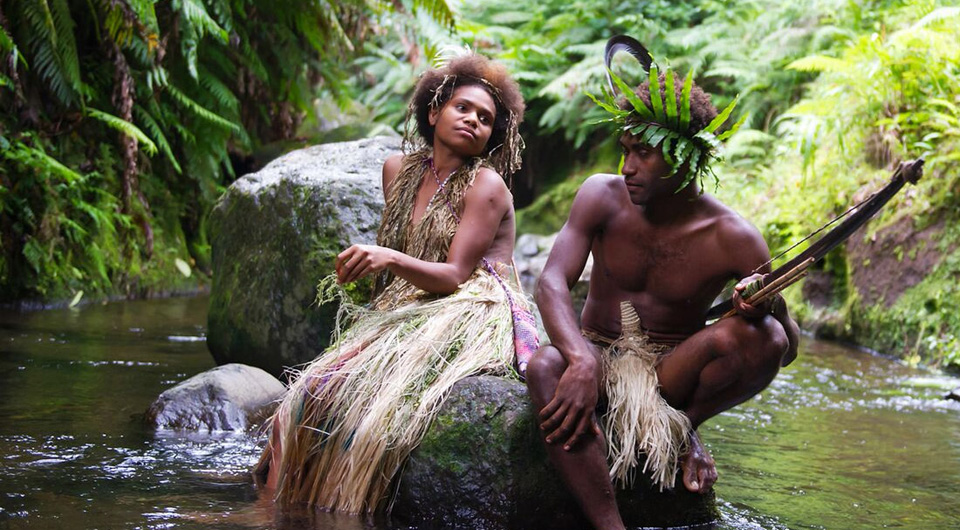 The Australian movie Tanna, which is Oscar-nominated this year for Best Foreign Language Film, epitomizes what the Pan African Film Festival is all about, and why it's such an essential expo of cinema. PAFF is dedicated to features, documentaries, animation, shorts, et al, dealing with the Black Diaspora – the dispersal of Black people around the world. For most Westerners this usually means productions focusing on Africa, the USA and the Caribbean. But much to PAFF's credit, America's largest and most important Black-themed filmfest also shines a light on Aborigines – Australia's indigenous Black people – and on Melanesians.
Although it's not widely known here, the Black Pacific Islanders of Papua New Guinea, Fiji, the French colony of New Caledonia, the Solomons, etc. – collectively known as Melanesia, in the South Pacific's western region – are by far the largest number of Natives in Oceania, greatly outnumbering the Polynesians and Micronesians. Although the migration of Melanesians from Mother Africa to the South Pacific has not, to this former Pacific Island resident's knowledge, been conclusively traced and proven, one fact is indisputable: The Native people of Melanesia have melanin and are indeed Black. So kudos to PAFF and the vision of its Executive Director, Ayuko Babu, for including and not forgetting their Black brethren in the South Seas!
The Academy Award-nominated Tanna is set in the island of that name, which is located in what is now the Republic of Vanuatu. You may think you've never heard of this South Pacific archipelago, but maybe not: It was formerly known as the New Hebrides and in James Michener's Pulitzer Prize-winning novel Tales of the South Pacific and the subsequent 1950s' adaptations as a Rodgers and Hammerstein musical for stage and screen, it is where "Bali Hai" – that mystic "special island… where the sky meets the sea" – is located. And at Pentecost, located in the island chain's north, the world famous daring "land divers" leap from high platforms, hurtling towards the earth, their falls broken within inches of the ground by vines tied around their ankles.
Tanna itself is famous for Mount Yasur, an extremely active volcano – believed to be home to something like a Pele-like fire goddess, similar to the Hawaiians' deity – is filmed to great effect in the movie. Tanna is also known for its traditionalist John Frum Cargo Cult, as well as the Prince Philip Movement, which is alluded to in Tanna, the first feature film shot entirely on location there.
The storyline revolves around two South Seas star-crossed lovers whose romance is forbidden due to a system of arranged marriages between tribes that are designed to maintain the peace between what could be warring clans. The would-be couple Dain (Mungau Dain) and Wawa (Marie Wawa) become entangled in a sort of South Pacific Hatfields-McCoys dispute in this Melanesian Romeo and Juliet saga.
Starting with the opening shot from above of the traditional village with thatched roof huts, viewers are swept into an authentic Oceanic ambiance of topless females clad in grass skirts and males in penis sheaths and little else – except for the leafy crowns they adorn their Afros with. (It's great to see Black people naturally accepting their blackness without a billion-dollar-plus products industry preying upon their insecurities and desires to "fit in" in a white dominant majority culture society pressuring them to unkink their hair and so on in order to adjust to and live up to Europeanized aesthetic standards.)
For much of Tanna I thought that, like Disney's Moana, it was set in pre-contact times before the French and British jointly colonized the New Hebrides in what was bizarrely known as the "condominium." There are no haoles (white people) in it – only the indigenous villagers. The filmmakers have a great eye for capturing the nuances of Pacific Island life, with shots of banyan trees, cicadas in the rain forest, boars tooth necklaces (like the one Luther Billis – played by Ray My Favorite Martian Walston – yearns for in 1958's South Pacific at Bali Hai), baskets made out of plaited leaves, conch shells, black sand beaches, tree houses, lava splashing out of the volcano's rim or swirling within like a glowing cauldron. There is a lovely shot from below and behind of children's feet dangling off of a log and much more, evoking Oceanic atmosphere.
Scenes of villagers romping in water shot at waterfalls are reminiscent of exquisite cascade vignettes in Robert Flaherty and F.W. Murnau's masterpiece, 1931's Tabu, shot on location at Bora Bora by Floyd Crosby (CS&N singer David's father), winning Floyd the very first Oscar for cinematography.
Co-director Bentley Dean has a strong background in nonfiction film. Dean co-directed 2002's Anatomy of a Coup, about the aborted attempted overthrow of Venezuela's socialist-leaning President Hugo Chavez and 2004's The President Versus David Hicks, the so-called "Australian Taliban."  He co-helmed 2007's The Siege, recounting the Tupac Amaru Revolutionary Movement's 1996 storming of a party at the Japanese Ambassador's residence, seizing hundreds of hostages and demanding the release of imprisoned MRTA revolutionaries, and the uncompromising response by Peru's strongman President Alberto Fujimori's. Dean also co-directed 2008's A Well-Founded Fear examining Australia's draconian refugee policy that returned many asylum seekers to their countries of origin – and what happened to them.
In Tanna Dean joined forces with Martin Butler, with whom he'd previously collaborated on two documentaries about Aborigine subjects, 2010's Contact and 2013's First Footprints. Although Tanna is a feature film with a script by the co-directors plus John Collee, it draws heavily on the filmmakers' nonfiction roots. The casting of what Westerners call "non-professional actors," with Tanna's inhabitants portraying themselves, enhances the sense of Oceanic authenticity and realism in what we are told in the opening title is based on a true story.
Although much of Tanna seems to take place untouched by the outside world, it turns out the events portrayed onscreen actually transpired in 1987, only seven years after the Ni-Vanuatu (as the archipelago's Natives call themselves in their national language, Bislama, the language Tanna's characters speak, which is translated via English subtitles) attained their independence from both Paris and London.
An intriguing aspect of Tanna is that it sheds light on Pacific Islanders' decision making process. On the one hand, the inhabitants of Wawa's village want to maintain "Kastom" – age-old customary law derived from their ancestors, not from Western missionaries, colonizers or courts. Indeed, the people depicted are mostly practitioners of the ancient nature worship religion, what Christians called "heathens" and "pagans." (Indeed, when Dain and Wawa run away to a Christian village for refuge, they cannot accept their ways, which includes wearing Westernized clothing.) In deliberating on the issue of arranged versus love marriages, the elder chiefs and village councils (primarily male) must try to hew to a path that respects their ancestral ways, while accommodating new realities. Lofty sentiments about peace and avoiding warfare are expressed and acted upon, which their so-called modern counterparts could learn from.
With its depiction of inter-tribal warfare between competing villages, Tanna dispels the simplistic notion that "primitive" people living in a state of nature inhabited problem-free paradises. Anarchists and Existentialist philosophers often ruminated about how human freedom is compromised by "modern" society's complex nexus of rules, et al. But Tanna shows how this can likewise be true for "savages" shackled by their own system of customs, just as Napoleon Chagnon wrote in his anthropological studies of the Amazon's Yanomamös, trapped in an system of eternal warfare – call it the military pre-industrial complex. But at least the Ni-Vanuatu – who were leaders in the nuclear free and independent Pacific movements – strive to resolve and rise above endless enmity.
The Pan African Film Festival is taking place from Feb. 9-20 and is screening Tanna 5:10 p.m., Feb. 12 and 8:35 p.m., Feb. 14 (this love story is a fitting film to see on Valentine's Day!) at the Cinemark Baldwin Hills Cinemas 15 (formerly RAVE Cinema), Baldwin Hills Crenshaw Plaza, 3650 Martin Luther King, Jr. Blvd., Los Angeles, CA 90008. PAFF info: https://www.paff.org/.
L.A.-based critic and film historian Ed Rampell is the presenter and programmer of "10 Films That Shook the World", a cinematic centennial celebration of the Russian Revolution, premiering 7:00 p.m., Feb. 24 at the Los Angeles Workers Center, 1251 S. St. Andrews Place, L.A., CA 90019.