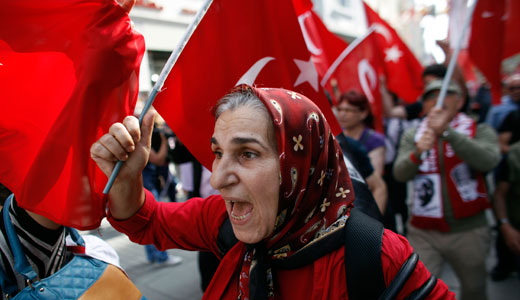 Turkish trade unionists have piled into anti-government protests, marching into Istanbul's Taksim Square banging drums and waving banners.
Members of more than a dozen unions joined in, calling for President Recep Tayyip Erdogan to quit.
"We will show that we will not surrender to fascism with our peaceful democratic reaction in city squares," said a joint statement from two union confederations.
They said the Islamist ruling party was restricting citizens' rights and freedoms "to realise its own dreams of power."
The Turkish Confederation of Public Workers' Unions (Kesk), which represents 240,000 workers, launched a two-day strike on Tuesday.
And today the even bigger Confederation of Revolutionary Trade Unions of Turkey (Disk), which has 420,000 members, joined the strike and demonstration.
Thousands of demonstrators welcomed the trade unionists to the square, yelling defiance at Mr Erdogan, who had earlier dismissed them as "extremists" and "vandals."
"The vandals are here! Where is Tayyip?" shouted the crowd.
On a nearby street during the night some protesters had clashed with police, who used tear gas against them.
There were similar protests against Mr Erdogan's reactionary policies in Kizilay Park in the capital Ankara.
And in the western port city of Izmir police raided 38 addresses and arrested 25 people for "inciting the people to enmity and hate" through Twitter posts.
Police said that they were still after 13 others.
Clashes spread overnight to the eastern province of Tunceli, where police fired tear gas and water cannon at hundreds of protesters who set up barricades and threw stones.
Police also confronted demonstrators in Ankara as well as in Hatay province on the Syrian border, where a 22-year-old man died after being hit in the head at a rally late on Monday.
Two people have been killed and more than 3,000 injured in the six days of protests.
Reposted from Morning Star.
Photo: Protesters near Taksim Square, Istanbul, Turkey, Thursday, June 6, 2013. Kostas Tsironis/AP