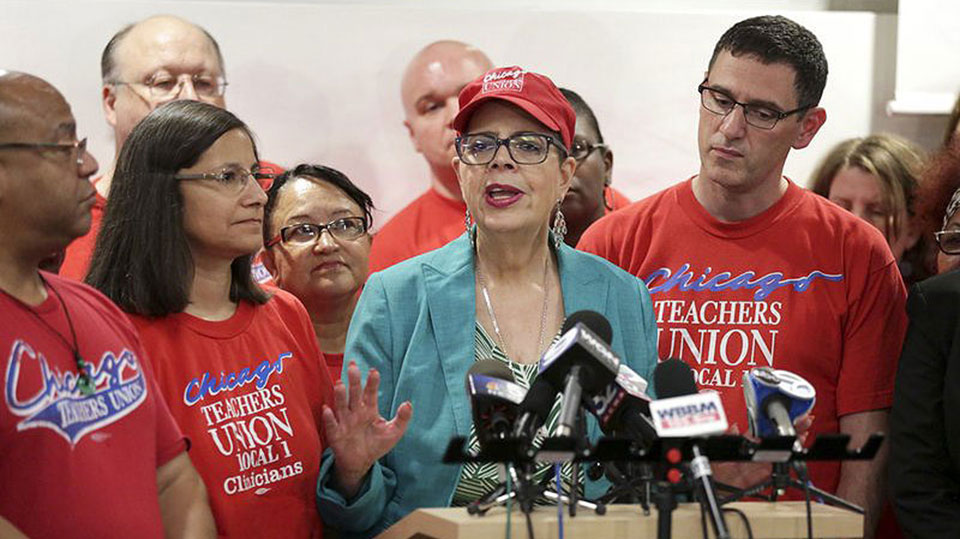 CHICAGO (PAI)—If you're looking for who started "Red for Ed," figuratively if not literally, you'll find Karen Lewis.
Because it could arguably be said that Lewis, the former President of the Chicago Teachers Union/AFT Local 1, who died in early February at 68 after a long battle with cancer, originated the combination of teacher activism for the kids and for their communities, that unionists in general—and teachers in particular—employed ever since from coast to coast.
And the "Red for Ed" T-shirts symbolize that, in blue cities (Chicago, Los Angeles), purple states (Arizona), and red states (West Virginia). In the Mountaineer State, teachers and parents, campaigning for better schools and against health care cuts, shut all the schools for nine days, and beat the right-wing GOP governor and legislature.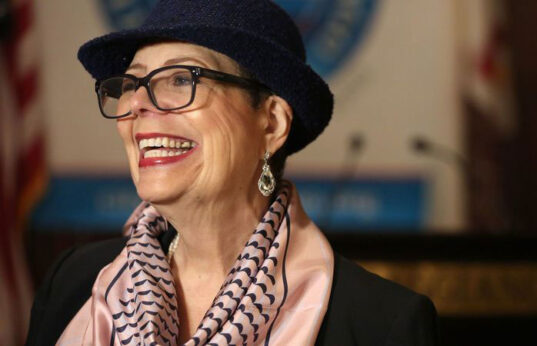 Lewis, the daughter of two Chicago Public Schools teachers and a Kenwood Academy (a public high school) and Dartmouth College graduate, became the first African-American woman to head the CTU. She was a trailblazer in the teachers-community combination. Lewis wasn't afraid to speak truth to power. The union leader mobilized the city to support kids, adding massive parent backing to her union's 35,000-plus members.
Red for Ed T-shirts blossomed when Lewis led Chicago teachers—and much of the city–out on strike in 2012 against then-powerful Mayor Rahm Emanuel's scheme to close 56 neighborhood schools. Most located in Black and brown neighborhoods. The former mayor also decided to run the Chicago Public Schools like a corporation with a CEO, which Lewis denounced. She was later mentioned as a candidate against Emanuel. Her cancer stopped that.
The 2012 strike wasn't about higher pay, though that was one reason. It was about having the schools serve communities, about using the union contract as leverage for more services for students and their parents—and paying for it by closing corporate tax loopholes. It was about what was right for the whole city, including CTU's paraprofessionals and others who wanted to live there and couldn't afford it.
And it was about improving the schools and the communities, too—a lot.
Lewis, the union president from 2010 to 2018, said in that final year that "CPS may always be a hot mess, but with due diligence, creativity, expertise, and insights, we can one day make this the strongest school district in the nation."
And such improvements, to schools and communities, became goals for CTU and the rest of the "Red for Ed" movement.
Lewis's willingness to challenge authority and mobilize her city to do so drew admiration and imitation nationwide. Her "appetite for a strategic fight was unmatched," said Teachers President Randi Weingarten. "But her goal was always the same: To create opportunity, equity and agency for the students, families and educators of the city of Chicago, the state of Illinois, and the entire nation. That will be her legacy."
"The conversation we have about schooling in this country today is fundamentally different because of Karen's efforts to shed light on the perils of the 'reform' effort and refocus on meeting the needs of children. But it's more than that: Like Jackie Vaughn before her, another iconic leader of the CTU, Karen helped our members believe in themselves.
"Her courage gave them courage to stand up to the bullying and disrespect often heaped on educators. She understood and taught that together we can do what is impossible to accomplish alone. And she practiced what she preached, which is why Local 1's core strength remains its solidarity and its commitment to the democratic process."
And Sen. Bernie Sanders, Ind-Vt., tweeted of Lewis: "She lived her life on the front line of the struggle for justice in education, and to honor her memory we must recommit ourselves to building the fairer future students and families deserve."