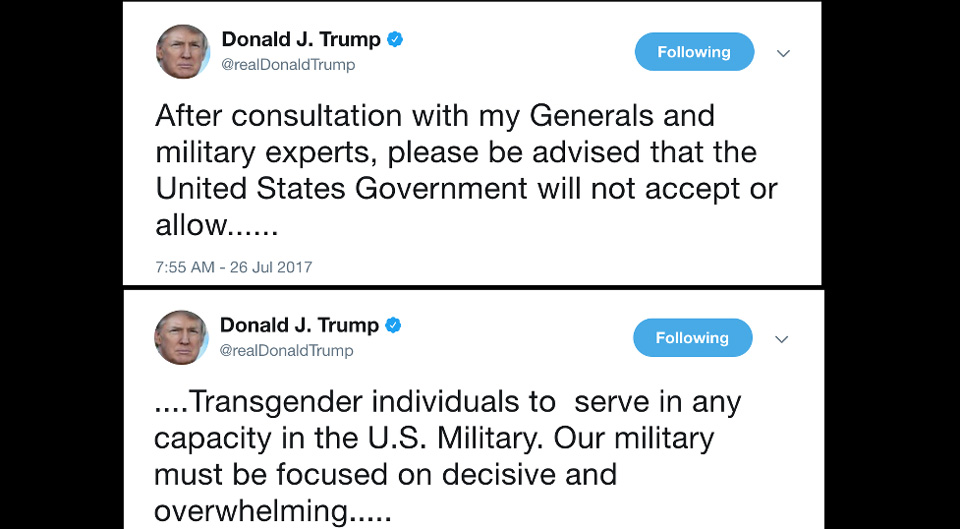 Five transgender military service members, including veterans from Iraq and Afghanistan, filed a lawsuit against Trump in the U.S. District Court of Washington, D.C., Wednesday, August 9, challenging his directive to ban transgender individuals from serving.
Trump's tweets July 26 said that the U.S. government will not "accept or allow transgender individuals to serve in any capacity" in the military, a complete reversal of current Pentagon policy.
The service members suing Trump have all come out as transgender to their commanding officers but are anonymous in the lawsuit. GLBTQ Legal Advocates and Defenders attorney Jenifer Levi said the plaintiffs, who are all named Jane Doe, chose anonymity for fear of retaliation.
The lawsuit states that Trump's tweets violate the Fifth Amendment rights of service members to due process and equal protection under the law, as well as the legal doctrine of "estoppel," which prevents a person from making claims contradictory to previous promises or actions before the court.
"From the implementation of its June 2016 policy until the President's June 26, 2017 announcements, Defendants provided Plaintiff's with ongoing support for their continued service in the military as openly transgender persons. In reliance upon that promise from Defendants, Plaintiffs informed their commanding officers that they are transgender," reads the lawsuit. "Because they identified themselves as transgender in reliance on Defendants' earlier promise, Plaintiffs have lost the stability and certainty they had in their careers and benefits, including post-military and retirement benefits that depend on the length of their service."
Defendants listed in the lawsuit are: Trump, Secretary of Defense James Mattis, Chairman of the Joint Chiefs of Staff Joseph Dunford, and other high-ranking military officials.
The White House has yet to deliver a written policy to the Pentagon, and in a memo a day after the tweets, Dunford said there would be no policy changes until an official order was received by Mattis.
The five plaintiffs are asking the court to provide injunctive relief, blocking the U.S. government from enforcing Trump's Twitter-declared policy change.
When asked about the lawsuit, the White House and Pentagon said they do not comment on pending legal cases.