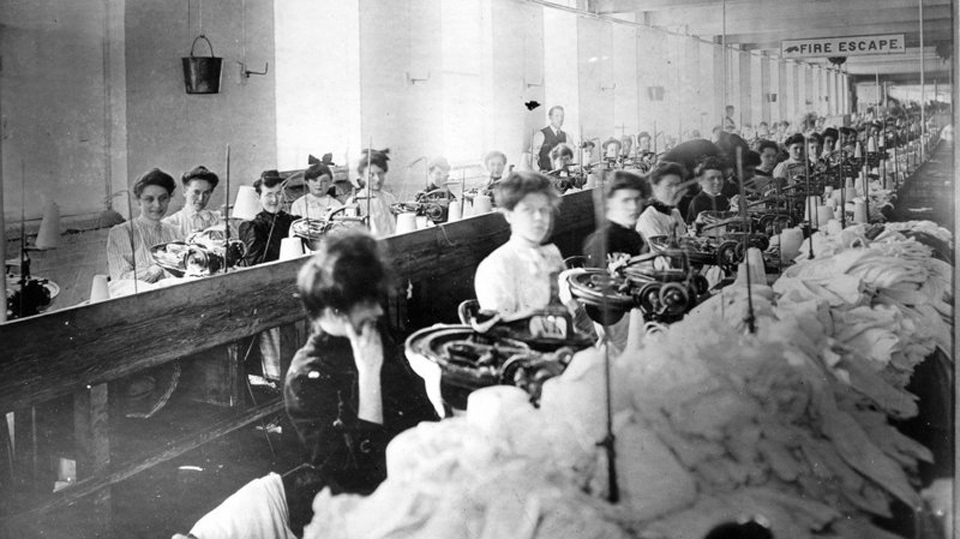 NEW YORK (PAI)—One of the rare pro-worker memorials in the U.S. is underway, but it needs a little more money for completion.
And that led the Remember the Triangle Fire Memorial Coalition, in conjunction with the New York Central Labor Council and many unions in and around the Big Apple, to host a fundraiser at the United Federation of Teachers building on Lower Broadway on Nov. 14.
The coalition is raising at least $1.5 million for the memorial, to be erected at the Asch Building, now owned by New York University, site of the infamous and historic 1911 fire.
On March 25 that year, sweatshop workers, all of them immigrant women and many of them recently arrived Jews from Eastern Europe, were trapped by a blaze on the eighth floor of the garment factory owned by the Triangle Shirtwaist Company.
Flammable shavings and cuttings on the workroom floor spread the conflagration. When the women tried to flee, they found the owners had locked the one door from the outside, allegedly to prevent stealing. Other workers fled down the fire escape—which ended four stories short of the street. Few escaped alive.
New York Fire Department ladders were too short to either let firefighters rescue the workers or to let them haul hoses up to douse the flames. The result was 146 of the women, completely trapped, were forced to jump. All died.
"The Triangle Shirtwaist factory fire was a pivotal moment in our nation's history, leading to increased union organizing, labor law reform, and fire safety regulations that continue to protect us today," the memorial coalition points out.
The fire was witnessed by a social worker, Frances Perkins. Outraged by the mass deaths, she led a crusade which revealed common unsafe conditions and lack of owner accountability, among other anti-worker conditions.
Perkins, who later became FDR's Labor Secretary, led a New York state investigation of the fire and its aftermath, then lobbied for the nation's pioneering workplace safety protections. Top New York Democrats, including Al Smith and Robert Wagner, Sr., pushed them through.
Unions have honored the sacrifice of the workers every year since the fire, but there's been no permanent memorial—until now.
"It will be one of the few memorials to workers in the United States," the coalition said. Gov. Andrew Cuomo, D-N.Y. "has pledged funding for this historic monument and the Coalition has received support from labor and community members for this project."
DONATE to help build the Triangle Fire Memorial and learn more about the coalition's efforts.