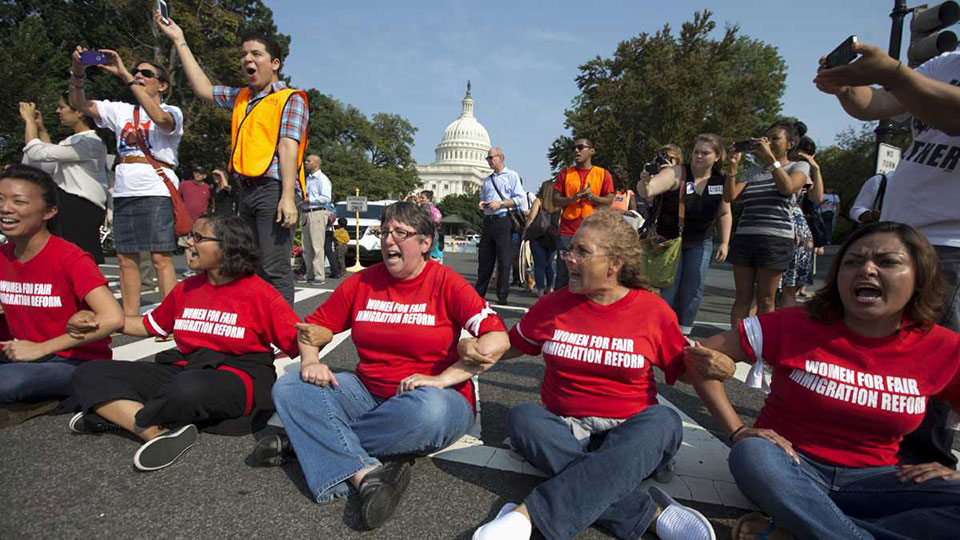 NEW YORK—Needless to say, activism has been on an upswing since the election of our new fascist-leaning president. But then much of this isn't new: Police violence, racism, Native American genocide, foreign wars, American empire building—the struggles continue. The ever-growing Tribeca Film Festival in lower Manhattan has become a prestigious institution where world filmmakers seek to have their work displayed before going on to theatrical or online release. Now with the proliferation of phone cameras and affordable camcorders, many more activists are joining the progressive cultural revolution, and Tribeca has expanded its political documentary program.
It was a citizen videographer, George Holliday, who happened to capture the police beating of Rodney King, which resulted in the tragic arc of violence after the acquittal of the responsible police officers in 1992. Now 25 years later, the most destructive race riot in American history is being remembered in no fewer than five major documentaries. Tribeca premiered the National Geographic production by co-directors, editors and cinematographers, Dan Lindsay and TJ Martin. The creatively designed doc is noteworthy for its sole use of archival footage, much of it black and white news coverage. LA 92 is in essence a cinematic tone poem uniquely cut to the form and structure of a classical symphony. You would think at first that limiting yourself to only old archival footage would severely curtail the storytelling. But there is an abundance of available footage, much that hadn't been seen since the tragedy—from the Korean community, from Natasha Harlins' family, local participants and police officers.
The backstory is just as vital, going all the way back to the 1960s, providing insight on cause and effect. The Watts Rebellion of 1965 was never resolved; the mass influx of Korean immigrants to the Black community and the killing of a young girl, Natasha Harlins, by a Korean woman storeowner—who ultimately was given a very light sentence of community work; all this is part of the events that prompted the massive reaction to the police officers' acquittals. The young white woman judge who sentenced the Korean storeowner, reasoned, "I know a criminal when I see one," blatantly smacking of racial profiling and providing a well-lit window into how the system works.
The directors shaped the film based on available material into five parts written in to accompany the drama. When King eventually appeared again in public to help quell the seemingly endless rioting the music gained a powerful momentum along with the story. The film demonstrates there are many ways to tell a story and this National Geographic production is not a journalistic approach, but rather a highly cinematic endeavor worth watching. The full documentary is available free to watch on YouTube.
Woke at Standing Rock
The standoff at Standing Rock drew worldwide attention and galvanized the struggle for Native American rights and the protection of our planet's resources. Filmmakers from all corners of the globe converged to document the struggles that the Water Protectors endured. Tribeca scheduled last-minute screenings of the powerful Awake: A Dream from Standing Rock, a brand new doc directed by three inspired filmmakers of widely divergent styles. Veteran filmer Josh Fox, noted for his Gasland films Part 1 and 2, showed his developing skills in his well edited section. And each section will affect you differently. Native director Myron Dewey relied on stunning drone footage for his section, and eventually had his equipment damaged and confiscated by the overbearing military forces using every method they could muster against the essentially non-violent water protectors. At the Q&A, Dewey, a Paiute nation professor and journalist, described the massive gathering of activists: "We have envisioned victory and sent out our warriors to bring our nations together to stop this war against our Mother Earth, to save for future generations. It's the vision of our ancestors that has survived and created this resistance. We are now the echoes of those visions, and must stand in solidarity."
Speaking to a full house of supporters and fellow activists who spent time at Standing Rock, Dewey proclaimed, "The power of unity and prayer was the awakening. It only took a few people to start that." He adds, "We changed the world at Standing Rock. That first fire that was lit, now the sparks have flown all over the world, and new fires are kindling. People are awakening and standing up not only for the rights of Mother Earth, but the rights of nature and the rights of humanity, the right to have clean air, clean water, uncontaminated land to feed our people and future generations." Dewey also praised the filmmakers who recorded the entire standoff. "Only 4 percent of what was filmed is available. There are still 800-plus water protectors still facing charges." Much more information is available at www.awakethefilm.org.
Another group that has felt the firestorm of opposition is the grassroots community activist group ACORN—Association of Community Organizations for Reform Now. The fast-growing and highly effective community group founded in 1970 by Wade Rathke came up against a wall of controversy during Obama's first presidential campaign. Andrew Breitbart and other rightwing tricksters "exposed" them as a corrupt and immoral social agency accused of helping prostitutes and human traffickers, among other things. ACORN and the Firestorm, directed by Reuben Atlas, known for his powerhouse music film about a South Chicago brass band, Brothers Hypnotic, ends up exposing the exposers. The film works as a tense political thriller that helps set the record straight and puts ACORN back on the map, albeit as several separate organizations with differing names, but still serving a needed social function focusing on welfare rights and helping lower income working people.
Activism was also represented in the ever expanding Tribeca Short Film collection, with films such as For Flint, about the drastic water situation in the working-class town in Michigan. And Water Warriors shares the common struggle at Standing Rock, this time with an energy company messing around with Mother Earth in New Brunswick, Canada.
A growing number of activist films are being made, and Tribeca chose to feature many of them because this year's festival was pulled together during the contentious times of the recent presidential campaign. One of the more formidable activist films at the festival, Copwatch, will be discussed in my next column.