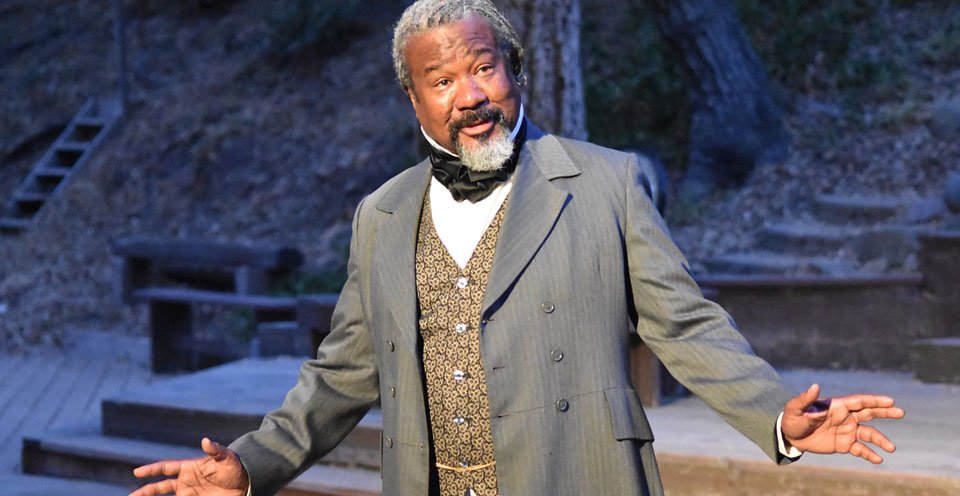 TOPANGA, Calif. — Robert Smalls (1839-1915). Ever heard of him? Me neither. If you have, you're better educated than I am, that's for sure.
But thanks to Trouble the Water, the 2019 award-winning historical novel by Rebecca Dwight Bruff, and now to the rich, panoramic stage work freely adapted from it by Ellen Geer, the scantly remembered, larger-than-life true story of Robert Smalls, the first African-American hero of the Civil War, has reentered the 21st-century consciousness.
Will Geer's Theatricum Botanicum longtime company member Gerald C. Rivers voiced the audiobook version of Bruff's novel and returns to the boards directing and heading the large cast as the elder Smalls.
Trouble the Water tells the remarkable story of Smalls, born into slavery in Beaufort, South Carolina, and nicknamed "Trouble," this younger self played by Terrence Wayne, Jr. Before the play even begins we are treated to a drum circle. The first act deals with his childhood and youth, his mother Lydia (Earnestine Phillips), and the McKee slaveowner family—Henry (Alistair McKenzie), his wife Jane (Robyn Cohen), daughter Eliza Jane (Fallon Heaslip), and Young Hank (Elliott Grey Wilson). In the dominant white class are also the more violent Rhett (Franc Ross) and his son Peter (the young Sage Michael Stone and the older Ethan Haslam). For what it's worth, let it not be said that all slaveowners were alike—some were harsher than others.
Trouble is raised in equal measure to appreciate the griot wisdom of his Gullah mother telling myths and parables that she recalled from her African forebears and the Bible stories of his Christian tutelage. He especially was moved by the story of Moses, who struck and killed an Egyptian slavemaster who was beating one of the Hebrews and later led his people out of slavery.
Named characters among the enslaved community include Uncle George (Rodrick Jean-Charles), Reuben/Abe (Danezion Mills), Hannah (the young Michaela Molden and the older Tiffany Coty), who marries Smalls, and double roles of Lavinia and Anne (Michelle Merring).
In addition, there's the Street Corner Renaissance Choir, a handful of mature black-suited men who intersperse the proceedings with appropriate a cappella spiritual renderings to punctuate the action. Sometimes their harmonic humming or keening is all that's needed to set the mood of the scene. The title Trouble the Water comes from the African American spiritual, "Wade in the Water," most apt for this play as we soon see. The subversive impact of such songs as "Go Down, Moses," "Steal Away" and "Jericho" is brought out.
In the second act, we encounter the further education of the budding hero. Trouble is hired out by his owner to a classy Charleston hotel as a waiter, then he graduates to stevedore on the docks—for $15 a month, of which Trouble can keep $2, a good lesson in the theory of surplus value under slavery! He learns all there is to know about shipping, import and export, navigation, weather, tides, and waterways. He moves up from dock worker to crewman to first mate and eventually to de facto captain, though not in name, of the Planter. After the Civil War breaks out, he is still in charge of the ship, regarded as the loyal, subservient slave. But inspired by the encouragement of Frederick Douglass's teaching and of the Moses story, he carries his family and the other sailors to freedom by commandeering a Confederate warship into Union waters.
Upon delivering the ship—including an arsenal of rebel weaponry—to the Union army, Smalls was declared a hero, awarded $1500, and introduced to Abraham Lincoln. Lincoln is curious to learn how they carried off their escape, and Smalls corrects him: More important is why, and with that, he influences the President to allow Black men—"there are thousands like me ready to take up arms"—to fight for the Union. Smalls himself was placed in charge of recruiting Black troops in South Carolina.
During the post-war Reconstruction, Smalls went on to be elected to five terms in the U.S. House of Representatives. He helped found the Republican Party of South Carolina and authored state legislation creating the first free and compulsory public school system for children of all races in the United States. The play only lightly touches on these later achievements, I suspect because the novelist probably found less dramatic material in them than in his earlier life.
It should be noted that while the latter half of Smalls's life is better documented, Bruff had to fill in the earlier life with believable characters true to the period. What we see is much closer to the truth of slavery, complete with beating, whipping, rape, and lynching, than the sanitized version popularized in Gone With the Wind, or before that, the Jim Crow-era demonization of African Americans in The Birth of a Nation.
Bruff—and the play—also bring out how lowly was the condition of white women in the South, here seemingly most important for their role as vessels for the next generation (boys preferred, thank you) of slavocrats. She was virtually her husband's "property" almost as much as his slaves. (The word "family" comes from the Latin famulus, referring to household slaves; familia describes the "total numbers of slaves belonging to one man.") A woman's journaling could be one of her few private satisfactions.
Not to say that Black women had it easy—hardly! But at least in this play, an instinctual strategic resistance and survival solidarity was needed between Black women and men, and the men could not afford to push women out of the struggle, especially their own mothers in those cases where a semblance of family was kept together. Black women also were used to give birth to the next generation of enslaved persons and were charged with raising them to an age when they'd be economically useful. So with the father often unknown (in many cases white men), family structures could be extremely tenuous. The issue of fatherhood in Trouble's life is the subject of much speculation, as McKee displays an unusually affectionate attitude toward him. A journal about her life also turns out to be a significant contribution that Lydia makes to the story, though how and when she became literate is not clear—apparently postbellum.
Critical scenes in the play depict clandestine meetings with Frederick Douglass, and prayer sessions that become strategy planning for the resistance, where familiar tropes emerge—patience and passivity, strength and action, forgiveness, ways to control anger and disagreement, the individual as opposed to the collective. "If you want to go fast," Trouble cites the African proverb, "go alone. If you want to go far, go with others."
If the first act is suffused with the wisdom of the griots, the second act is filled with the sound of the grillos—Spanish for crickets—which were loud enough for me to suggest that the actors might consider raising their volume a bit!
It is known, however, and this section concludes the play, that the house in Beaufort behind which Smalls was born, had been abandoned during the war, and Smalls was able to purchase it for the back taxes. In recent years that house has been designated as a National Historic Landmark. He died on his front porch and was buried in his family plot at the Tabernacle Baptist Church in Beaufort. His monument in the churchyard bears a statement he made to the South Carolina legislature in 1895: "My race needs no special defense, for the past history of them in this country proves them to be the equal of any people anywhere. All they need is an equal chance in the battle of life." The soul of America is still being torn apart in that elusive search for "an equal chance."
The creative team for Trouble the Water includes lighting designer Hayden Kirschbaum; sound designer Marshall McDaniel; costume designer Yuan Yuan Liang; prop master Dante Carr; dramaturg Stuart K. Robinson; and cultural competency coordinator Kikanza Nuri-Robins. Kim Cameron is the production stage manager. Trouble the Water is supported in part by the National Endowment for the Arts and the City of Los Angeles Department of Cultural Affairs.
Following are links provided by the company to resources for further information:
In addition, watch an interview with Gerald C. Rivers here.
Without being reductive or simplistic, this is the theater of the "Good Trouble" Resistance, inspiring, hopeful, true to history—not romanticized in the commercial Les Mis style. No one will come away from this play believing that all is well now in America. A luta continua! The director, Mr. Rivers, of this cast of more than 30 players, writes in a program note, "It is a story that needs to be told. It is one of challenge, triumph, and courage in the face of adversity beyond measure. It is an American story; it is our story. It is one of love, passion, and true patriotism. It talks of family, politics, and history, but, more importantly, it is a story about the human heart."
Readers in Southern California—and visitors to the area—do not miss this great epic experience! This play deserves a national tour. And it's time for a Robert Smalls U.S. "forever" postage stamp!
Trouble the Water continues with 10 more performances through Oct. 2. Meet novelist Rebecca Dwight Bruff at the prologue (pre-show discussion) on Sat., Sept. 24 from 6:30-7 p.m. Children four and under are free. Pay What You Will ticket pricing will be available (cash only at the door) on: Fri., Aug. 5 at 7:30 p.m.; Fri., Aug. 26 at 7:30 p.m.; and Sun., Sept. 4 at 3:30 p.m.
Will Geer's Theatricum Botanicum is located at 1419 N. Topanga Canyon Blvd. in Topanga, midway between Malibu and the San Fernando Valley. The outdoor amphitheater is terraced into the hillside of the rustic canyon. Audience members are advised to dress casually (warmly for evenings) and bring cushions for bench seating. Patrons are welcome to arrive early and picnic before a performance. For a complete schedule of performances, to purchase tickets, and for information including up-to-date Covid19 protocols on the day of each performance, call (310) 455-3723 or visit theatricum.com.