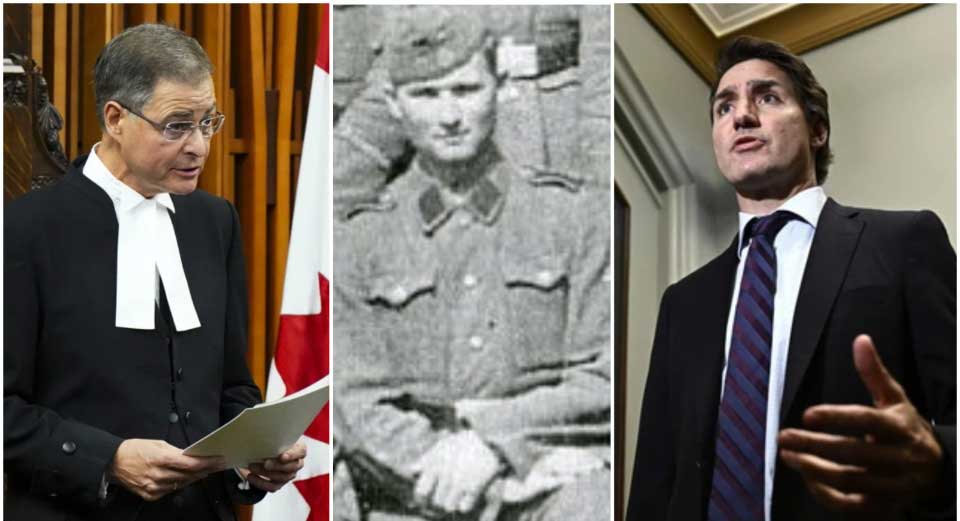 TORONTO—Dodging blame for the embarrassing incident that saw himself, Ukrainian President Volodymyr Zelensky, and every member of Parliament give a standing ovation for a veteran of Hitler's SS, Canadian Prime Minister Justin Trudeau said Monday, "It's important to push back against Russian propaganda, Russian disinformation."
But simply pointing the finger at Moscow isn't cutting it this time. Przemyslaw Czarnek, the education minister of Poland, says he's taking steps to extradite Ukrainian-Canadian Yaroslav Hunka to answer for his role in the infamous Waffen-SS Galicia Division that committed mass murders in Poland and other European countries during World War II.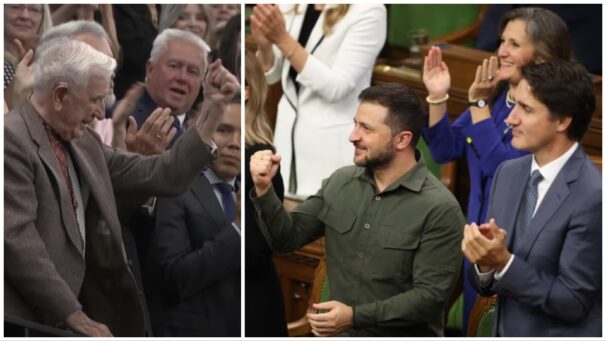 Hunka was an honored guest sitting in the parliamentary gallery when Zelensky visited Canada last week and addressed lawmakers. House of Commons Speaker Anthony Rota invited Hunka and recognized him as a "hero who fought for Ukrainian independence from Russia during the Second World War."
Russia—as part of the Soviet Union—was an ally of Canada and the Western Allies in the struggle against fascism during World War II, so anyone who fought against Russia was on the side of Hitler. Critics say that fact should have been known to Trudeau—and especially to his Deputy Prime Minister Chrystia Freeland, who is a scholar of Russian and Ukrainian history and granddaughter of another Ukrainian Nazi collaborator—yet they joined in hailing Hunka anyway.
When Hitler invaded the USSR, Hunka betrayed his homeland and volunteered to fight in a regiment of the SS, which was later proved to have participated in mass killings and repression in Poland, Ukraine, Yugoslavia, and other places.
Rota became the scapegoat for the ordeal, with Trudeau and politicians from the Liberal and New Democratic Parties pinning the blame on him for bringing Hunka to Parliament. Opposition Conservative MPs have said Trudeau also bears responsibility and tried to blame him for supposedly tricking them into applauding a Nazi.
Rota's introduction of Hunka's history, however, made every lawmaker liable for their own participation—no matter their party. Rota's political career came crashing to a dramatic end on Tuesday as he resigned from his Speaker position.
As the Hunka incident makes headlines globally and the Trudeau government tries to portray it as a one-off embarrassment, historians have noted that Canada has for decades served as a refuge for Ukrainian fascists.
At the end of World War II, as many as 600 members of the SS Galicia Division were granted immigration to Canada. The influx of far-right collaborators totally changed the political character of the Ukrainian-Canadian community. Prior to the war, the Ukrainian immigrant community was generally aligned with the left and several labor leaders were of Ukrainian heritage. The new arrivals were welcomed as "refugees" from Soviet oppression during the early days of the Cold War.

In 1950, the Ukrainian Labor Temple in Toronto was bombed on Thanksgiving, with "wartime members of Hitler's Ukrainian SS division" held responsible, according to reporting from the Toronto Daily Star at the time. Railway spikes, shrapnel, and broken glass rained down on attendees of a concert sponsored by the left-wing Association of United Ukrainian-Canadians. J.B. Salsberg, a Communist member of the Ontario Legislature, visited the scene of the attack and called it a "fascist outrage."
Other SS Ukrainian veterans, like Peter Savaryn, ascended to positions of power in the country in the years that followed. Also a volunteer in Hitler's Galicia Division, Savaryn served as chancellor of the University of Alberta in the 1980s and headed the province's Conservative Party. At his university's Canadian Institute of Ukrainian Studies, there is a research endowment fund named for Yarsolav Hunka and his wife, Margaret.
Several Canadian cities also host monuments to Ukrainian collaborators, including the Toronto suburb of Oakville and Edmonton, Alberta, which has a memorial for Roman Shukhevych. The latter was the leader of the Ukrainian Insurgent Army (UPA), the armed wing of Ukrainian fascist Stepan Bandera's Organization of Ukrainian Nationalists (OUN).
During World War II, Bandera's group joined Hitler's effort to conquer Ukraine, expecting themselves to be put in charge after Germany won. The consensus among historians is that Shukhevych was responsible for the deaths of tens of thousands of Poles, Jews, Belarusians, Russians, and other Ukrainians.
The Hunka ovation, then, is not a single aberration in an otherwise anti-fascist record for the Canadian political establishment. The embrace of the Ukrainian far-right stretches back decades. But the Hunka case, because it has resulted in such publicity, is too much for some—including Poland.
Czarnek, Warsaw's education minister, said on Tuesday: "In view of the scandalous events in the Canadian Parliament, which involved honoring, in the presence of President Zelensky, a member of the criminal Nazi SS Galicia formation, I have taken steps towards the possible extradition of this man to Poland."
Trudeau's government says it has no comment and that no formal request has yet been received.
Though Poland is itself ruled by a far-right party, the history of the Second World War and the murderous devastation the country faced at the hands of Nazi Germany and its supporters remains a part of the national consciousness.
Last year, Polish authorities complained to their Ukrainian allies about the continued glorification of collaborators and war criminals by the Kiev government. The public rehabilitation of such figures was one of the reasons provided by Russian President Vladimir Putin to justify his illegal invasion of Ukraine.
Poland asked Zelensky's government to stop throwing birthday parties for Bandera and to acknowledge the genocide of Poles by the UPA during the war. "They have to acknowledge it because it's a fact. It's simply a fact. A political decision was made and implemented for ethnic cleansing, the extermination of the entire national minority that has lived there for centuries," a Polish diplomat said in April 2022.
Ukraine rebuffed the complaints, along with similar ones made by Israel.
As for Trudeau's Hunka problem, it isn't going away just yet. But because every single Canadian politician in the parliament, from every single party, is implicated in the affair thanks to their own applause, don't expect much of a crusade to keep the fires burning under the prime minister. And don't expect a pause in Ottawa's funding—already totaling some $9.5 billion Canadian dollars—to keep the war going.
As with all op-eds published by People's World, this article reflects the opinions of its author.