ST. LOUIS—Canadian Prime Minster Justin Trudeau's demand that any "new NAFTA" require the U.S. to repeal states' "right to work" laws is "all show," a top Canadian labor editor says.
But the fact Canada's leader also had to make that demand, during a prior round of new NAFTA talks in Mexico City, also shows the power of organized labor north of the border, adds Nora Loreto, a member of Unifor, the union that represents Canada's auto workers.
During a session at the ILCA conference, Loreto, president of the Canadian Association of Labour Media, offered her analysis  on right to work and what U.S. labor media can do to combat the right-wing movement to use those laws to defund the nation's unions by robbing them of money, in this case, fees from so-called "free riders."
Trudeau, Canada's new Liberal Party prime minister, heads a party that "is friends with" Canadian business "on the sly," she explained.
"But they are movable. Trudeau and" foreign minister Chrystia Freeland "wouldn't talk about right to work if it wasn't politically important" for them to do so to attract Canadian labor support in their last, successful, federal election there.
Right to work laws, which unionists in the U.S. call right to work for less laws, let non-union members whose work sites are covered by an union's contract use union services, such as contract provisions negotiated for all and grievances to protect them from management whims and dictates, without paying one red cent for them.
In the NAFTA talks in Mexico City last month, Trudeau and Freeland put Canada's anti-RTW demand on the bargaining table as part of their nation's package for a strong enforceable labor section in any new three-way U.S.-Canada-Mexico so-called "free trade" pact to replace the 25-year-old NAFTA.
Unifor President Jerry Dias successfully lobbied Trudeau to take the anti-RTW stand, he confirmed in an earlier interview with Press Associates Union News Service. They did.
"It's all show," Loreto said. Trudeau and Freeland "know the American negotiating team will tell them to get the hell out."
"Justin Trudeau got elected in opposition to an extreme Conservative (Party) government," Loreto explained. Tory PM Stephen Harper's creed was to "kick people while they're down." His stands were those "which most Canadians don't support."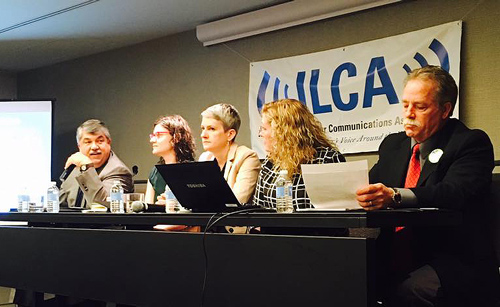 That included the current NAFTA, which drew strong union and worker opposition in Canada. Polls showed "even more than 50 percent of PC (Progressive Conservative, the party's official name) voters were opposed," Loreto said.
"They didn't want to lose wages or see a race to the bottom," she added. Like the U.S., Canada has lost factory jobs – 66,000 – to the third NAFTA partner, low-wage Mexico. Mexican unions, with one exception, are government- and industry-controlled. But Canadians also "didn't want to see factories go to RTW states" in the U.S., now including Michigan and Wisconsin.
Michigan is the center of the "Detroit three" auto firms and Wisconsin, by percentage of state gross domestic product, is the top U.S. factory state, much of that from cars and parts. The Detroit 3, notably GM, have large factories just across the Great Lakes in Canada's industrial center, Windsor, Ont. "If we lose our industry to right to work states, it's like you losing industry to Mexico," Loreto said.
The U.S. bargaining team did not discuss right to work as part of its demands for a new enforceable labor rights chapter in a new NAFTA, AFL-CIO President Richard Trumka said during the same ILCA panel discussion. He said he's in frequent contact with GOP President Donald Trump's top bargainer, U.S. Trade Representative Robert Lighthizer, about U.S. labor's goals.
While Lighthizer officially wants to write worker rights into any new NAFTA, Trumka called the Trump administration stand on RTW "very weak. And I protested that." He agreed with Trudeau, Freeland and Loreto that RTW laws give the U.S. "an unfair advantage."
The latest round of new NAFTA talks ended without an agreement and with both Canada and Mexico complaining about what they call Trump's "poison pills." The three nations will resume talks early next year. Trump has pushed for a new NAFTA by the end of 2017.
One such poison pill, at least in Canada's view – though not in U.S. labor's – is abolition of the Investor State Dispute System.
ISDS panels are secret pro-business courts of trade lawyers, empowered to rule on charges that any law, from job safety and health standards all the way down to Buy America rules, could endanger future corporate profits and must be dumped or the country's government faces heavy fines. Firms can bring cases to those ISDS courts under the current NAFTA. Workers and unions cannot.