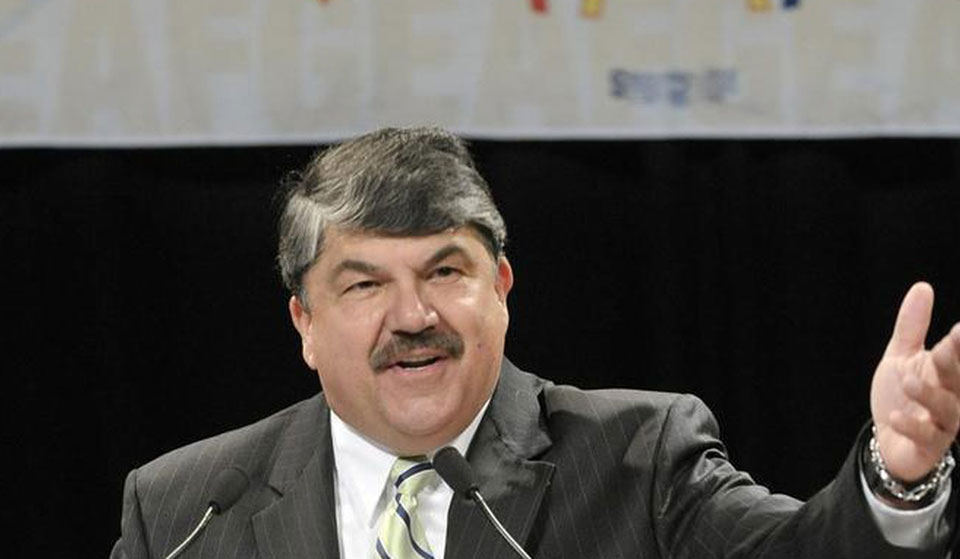 CLEVELAND – Speaking to some 200 union activists here June 18, AFL-CIO President Richard Trumka called for renegotiation of the U.S.-Mexico-Canada trade agreement to stop the ongoing tidal wave of plant closings.  The shutdowns unleashed by the 1994 North American Free Trade Agreement (NAFTA) have continued as recently as last March when General Motors closed its auto assembly plant in Lordstown, Ohio. Trumka said NAFTA has caused elimination of almost one million jobs, destroying the lives of workers and their families, who lost homes, wages, pensions and  their entire way of life as communities were disrupted across the land.
U.S. corporations, driven by greed for higher profits, often relocated plants to Mexico where U.S. companies pay little or no taxes, workers are paid much lower wages and goods they produce are exported to the U.S. without tariffs.
"NAFTA didn't fail," Trumka said.  "It did precisely what it was designed to do — make corporations rich at our expense."
The new agreement, signed by trade representatives of the three countries at a meeting in Buenos Aires last November would continue this process unless corrections are made, Trumka warned.
He said the new agreement has some improvements over NAFTA, but has three major loopholes that, unless closed, would be deadly to American workers.
They include serious problems regarding "protectionist contracts," arbitration panels and entry of goods produced in violation of the agreement.
"Protectionist contracts," he said, refers to Mexico's policy of attracting foreign companies by maintaining low wages. Trumka cited the example of Nabisco, which closed five plants in the U.S. and two in Canada in 2016 shifting production to a giant complex in Mexico where wages are less than $2 an hour. Under the new agreement, Mexico has agreed to eliminate these contracts and set much higher wages, but, as yet, has no laws or procedures for enforcing those standards.
The second problem concerns the fate of disputes over implementation of the agreement.  These would go through a process, Trumka said, but would ultimately be decided by a panel of representatives of each country and would require their unanimous consent.  Without that,  disputed practices would continue with no time limits.
Finally, the entry of goods problem means that the U.S. could not stop importation of goods produced in violation of the agreement at the border.
Trumka charged the Trump administration and corporate interests have mounted a multimillion-dollar campaign to rush the new agreement through Congress, which must ratify it for it to go into effect.  Trumka expressed hope it can be blocked. House Speaker Nancy Pelosi, is standing with labor, he said, and refusing to allow any vote until the agreement is fixed.  The AFL-CIO has launched a petition drive to back this up. The online petition can be accessed simply by texting TRADETOUR to 235246.
Trumka's speech was part of a tour through cities in Pennsylvania, Ohio and Michigan, highly industrialized states, that were especially impacted by NAFTA.
Following his remarks, workers came to the microphones to underscore the seriousness of the problem.  Mark Granakis, former president of Steelworkers Local 979, at Arcelor-Mittal in Cleveland spoke of the human suffering that lies behind the statistics., including broken marriages, drug addiction and suicides.
Mark Payne, President of United Auto Workers Local 1250 at Ford in suburban Brook Park, said his plant, which had 14,000 workers before NAFTA and not employs only 1600, was "the poster child" for the impact of bad trade policies.
Chucky Denison, formerly employed in Lordstown, said his city had been "decimated" by the plant closure and urged that workers "get behind Bernie Sanders" for President.
Trumka said trade policy is not the only challenge workers face .
"We have to change tax and labor laws as well."  He said the Presidential candidates must all be asked, not only where they stand on the trade pact, but also on the PRO ( Protecting the Right to Organize) Act, which would abolish so-called "Right-To Work" laws and guarantee workers freedom to form unions without employer interference.
"If the candidates don't stand with us on both measures, just walk away and support someone who does."