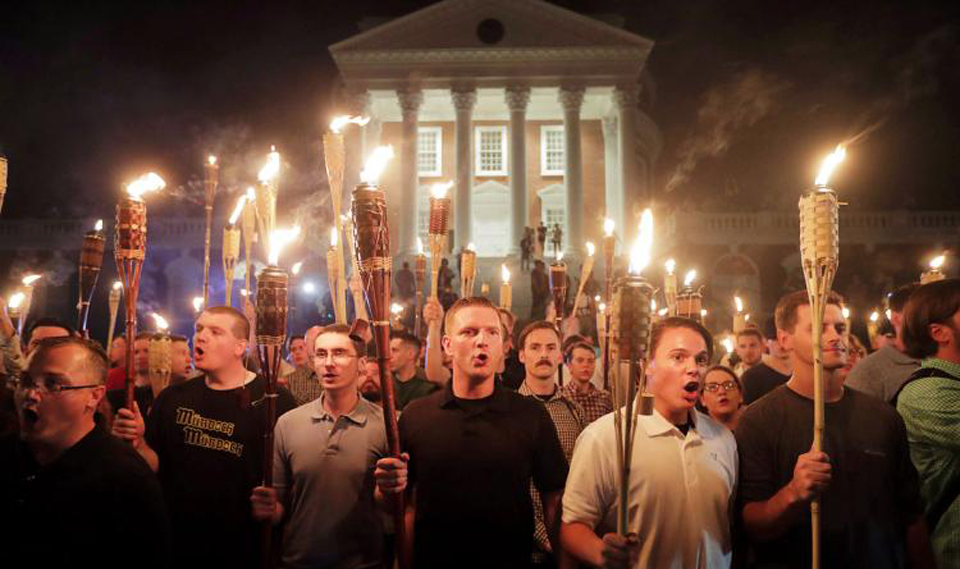 Bulldozing back into controversy with an escalated attack against activist NFL players, Donald Trump canceled a visit to the White House by the Super Bowl Champions, the Philadelphia Eagles. He referenced last year's protest controversy; his own personal war against players' taking a knee during the National Anthem, protesting racism, police brutality, and oppression.
Trump who initially praised the anthem policy passed by the NFL last month, reversed course by tweeting Tuesday morning: "Honoring America! NFL, no escaping to Locker Rooms!"
In a statement released Monday, Trump said: "The Philadelphia Eagles are unable to come to the White House with their full team to be celebrated… They disagree with their president because he insists that they proudly stand for the national anthem, hand on heart, in honor of the great men and women of our military and the people of our country."
Instead of highlighting Eagles players work on and off the field, their commitment to improving their communities, and their fight against injustice—an important "American value," the White house, at Trump's request, will hold a "Celebration of America" featuring U.S. Military's bands and choirs.
"We will proudly be playing the National Anthem and other wonderful music celebrating our Country today at 3 p.m., the White House with the United States Marine Band and the United States Army Chorus."  Trump tweeted.
"When he had the opportunity to serve his country for real, his father got him out of it, and I think it's really disingenuous for him to talk about patriotism in any way shape or form," said Philadelphia Mayor Jim Kenney about Trump's decision and extreme "patriotism."
"Disinviting them [Eagles] from the White House only proves that our President is not a true patriot, but a fragile egomaniac obsessed with crowd size and afraid of the embarrassment of throwing a party to which no one wants to attend," he added.
While other sportswriters and sports news outlets are calling this an unprecedented move by the president, I don't find it one bit surprising.
This is exactly what Trump wants and craves: attention and glorification.
It's always about him.
This isn't the first time a small group of players have refused to visit the White House for political reasons, and won't be the last—Larry Bird skipped the Boston Celtics 1985 Reagan White House visit; Tom Brady didn't join the New England Patriots in 2015;  Matt Burke skipped in 2013 because of Obama's "support" of Planned Parenthood; Tim Thomas of the Boston Bruins in 2011.
Having less than half of the Eagles' 53-man roster planning not to attend, according to an anonymous team source, shouldn't be an issue and shouldn't be a moment to confuse patriotism with nationalism.
Oh…not to mention that no Eagles' player took a knee in 2017.
I want to get back to Trump's statement for a moment.
He said members of the team "disagree with their president because he insists that they proudly stand for the National Anthem."
Perhaps it's not a disagreement over his National Anthem fetish, rather a disagreement with his blatant racism, and white nationalism. Let's not forget, after the tragedy in Charlottesville, Virginia, Trump went on record calling neo-nazis' and KKK members "very fine people." But Black athletes taking a knee against injustice are nothing but "sons' of bitches" who should be fired.
Calling the decision "cowardly" and "foolish," former Philadelphia Eagles wide receiver Torrey Smith went on to say: "There are a lot of people on the team that have plenty of different views. The men and women that wanted to go should've been able to go. It's cowardly to act to cancel the celebration because the majority of the people don't want to see you. To make it about the anthem is foolish."
"No one refused to go simply because Trump 'insists' folks stand for the anthem….he President continues to spread the false narrative that players are anti-military," he said.
Last month, Eagles safety Malcolm Jenkins and defensive end Chris Long made it clear they would not visit the White House.
"[When] my son grows up, and I believe the legacy of our president is going to be what it is," said Long. "I don't want him to say, 'Hey Dad, why'd you go [to the White House] when you knew the right thing was to not go?"
While Jenkins added "when it comes to this presidency, I'm not very excited about getting my picture taken with him…I'd rather spend my time working with whoever on these issues that we've been fighting for. That's just my personal decision."
The NFLPA responded to the announcement with a twitter statement:
"Our union is disappointed in the decision by the White House to disinvite players from the Philadelphia Eagles from being recognized and celebrated by all Americans for their accomplishments. This decision by the White House has led to the cancellation of several player-led community service events for young people in the Washington D.C. Area. NFL players love their country, support our troops, give back to their communities and strive to make America a better place."
Trump's actions are a clear indication that tensions continue around the NFL and country when it comes to addressing systemic racism and police violence.  As a status quo politician, Trump will do everything in his power to keep political, economic, and judicial oppression in place.
"It's unfortunate when politics gets in the middle of this," said White House legislative director Marc Short.
No Marc, this isn't politics, this is about a delusional "billionaire" living out his dictator fantasy.